Paid Surveys: California Survey Opportunities
So you're in California and you'd like to make some extra money with surveys? You're in luck. There are a number of opportunities for Californians to make money doing online surveys.
Market research companies work with big companies and brands that need consumer feedback. They need the opinions of people from all backgrounds and states to take surveys – and this includes California.
Before businesses make major decisions, like trying new flavors, new taglines, or new product features, they need your opinions. They partner with survey companies to get your insight and will reward you for your time for doing so. Businesses use your feedback for things like marketing and creating new or improved products and services.
California survey takers can make anywhere from a couple of dollars to a couple of hundred dollars for taking part in paid survey opportunities. Most online surveys pay around fifty-cents to five dollars. Complete a handful of surveys a day, you can see how that can add up to a nice payday.
Survey rewards include free PayPal cash, a free Amazon gift card, or a gift card to other popular stores, prepaid Visa or Mastercards, cryptocurrency, and prizes and sweepstakes entries.
Get Paid for Surveys in California
Doing paid surveys for extra money in California is an easy way to make some money in your free time. Whether it's a side hustle stack, or just something you do here and there when you've got free time, with paid surveys you can reasonably expect to earn an extra $500 to $2,500 a year. The survey rewards site, Swagbucks, even has a number of survey takers who have made over $20,000 since joining Swagbucks.com.
How Paid Surveys in California Work
It's easy to get started taking paid surveys in California.
Sign up for a trustworthy paid survey site (we'll go over a few in detail). It's free to join and usually takes around 60 seconds to create your account.
Visit the surveys section and look for available surveys. Typically, the survey site will share some basic details upfront like the survey topic, anticipated completion time, and survey reward amount. The survey reward amount should always be shown upfront.
Complete the survey. You will need to complete a short pre-screener to make sure that you qualify. If it's a survey for moms of young children and you're a man, you would be disqualified. To earn the reward, you must qualify for and complete the survey.
The money comes from the brands conducting market research. They will have a budget to gather consumer opinions through surveys. When a survey is completed, the brand will pay the survey rewards site like Swagbucks. These survey sites connect market research companies to survey takers.
After the brand pays the survey site, the survey site shares a portion of the earnings with you. Usually, it's at or around 50/50.
Typically, longer surveys pay more since they require more time and more effort. Shorter surveys will pay less, and there may even be 1-question surveys that pay a few cents.
Top Paid Online Survey Sites for California
Here are the best surveys for money California residents can try.
Swagbucks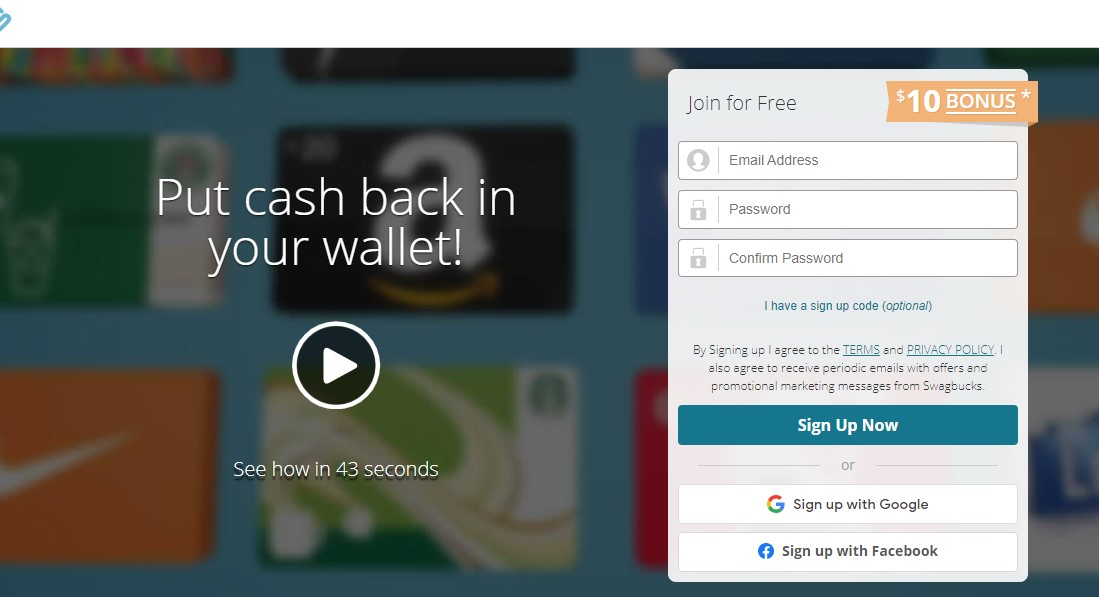 Swagbucks is one of the best and most well-known sites for paid online surveys. Based in Los Angeles, California, Swagbucks pays its members cash for answering surveys, playing games, searching the web, shopping online (free coupons and free cash back rebates), doing live trivia games, trying free products, and more.
Take surveys on the Swagbucks.com website or in the Swagbucks app.
For some survey opportunities, Swagbucks members have the option to earn join focus groups after they've completed a certain survey. For example, you may complete a survey about coffee and then afterward be invited to participate in product testing or focus group in person afterward.
Most surveys take 5 minutes to 25 minutes to complete and pay $0.50 to $10.
Redemption options start from $1 with the option to get a $1 Amazon gift card.
Inbox Dollars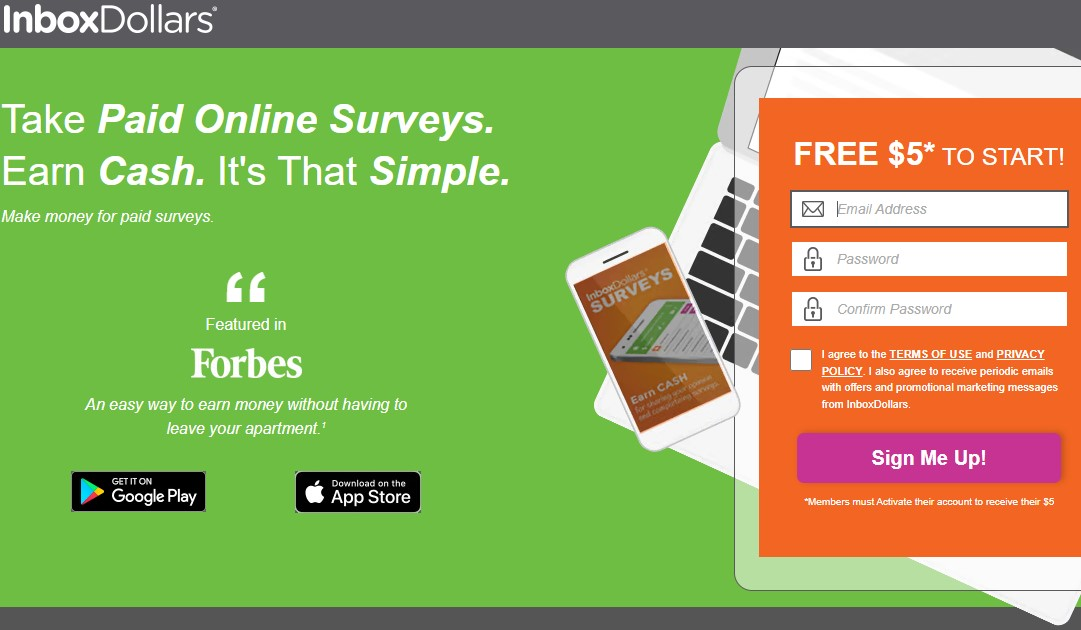 InboxDollars is a longstanding survey rewards site that's paid members for completing surveys since 2000. InboxDollars is an oldie but goodie in the world of survey sites, offering you plenty of ways to earn a steady stream of extra cash. Visit InboxDollars.com or check out the app.
In addition to taking surveys, you can earn money in many other ways. Get paid to play games, search the web, read emails, test products, try new apps, scan receipts, and more.
Earn rewards in dollars and cents, not points. Cash out your earnings for free gift cards, free PayPal cash, or a check in the mail.
Join InboxDollars now and you'll get a free $5 signup bonus. Get $5 free just for signing up.
MyPoints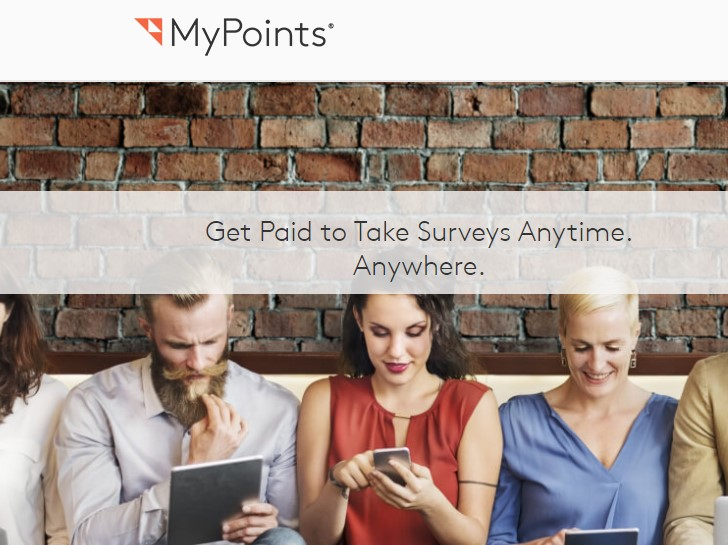 MyPoints is known as a shopping reward site where you can earn points (cash back rebates) for shopping online. But MyPoints also has many surveys and other earning activities you can complete. And for many dyed-in-the-wool survey enthusiasts, MyPoints is one of their favorite online survey sites.
You can do MyPoints on the MyPoints.com website or through the MyPoints app.
Take surveys on a variety of topics from grocery shopping to politics. For some activities, you'll complete activities like watching videos of ads or listening to music and then giving your feedback. Most surveys take 5 to 25 minutes to fill out and you can redeem your earnings for free gift cards or PayPal.
Opinion Outpost

Opinion Outpost is an online market research panel that pays you points for taking surveys on a variety of consumer topics. Earn points that you can redeem for PayPal, an Amazon gift card, or a prepaid Mastercard.
Opinion Outpost is a solid survey site to earn cash, but it does have fewer earning opportunities and redemption opportunities than the top 3 survey sites we've shared.
LifePoints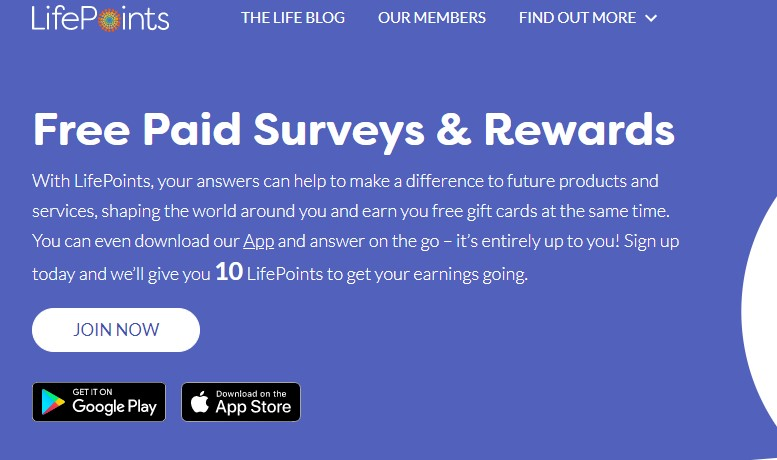 LifePoints is an online survey company that will pay you points for taking surveys about different products or issues. Redeem your points for eGift cards or PayPal.
Apart from surveys, LifePoints doesn't offer any other way to earn gift cards or cash rewards. LifePoints is a longstanding survey company though and a reliable way to earn extra cash.
While I wouldn't advise joining LifePoints if you were just going to join one survey site, LifePoints is worth looking into if you're looking for a second or third survey site to join. Many survey-taking enthusiasts will join multiple online survey sites as a way to maximize their extra income.
Branded Surveys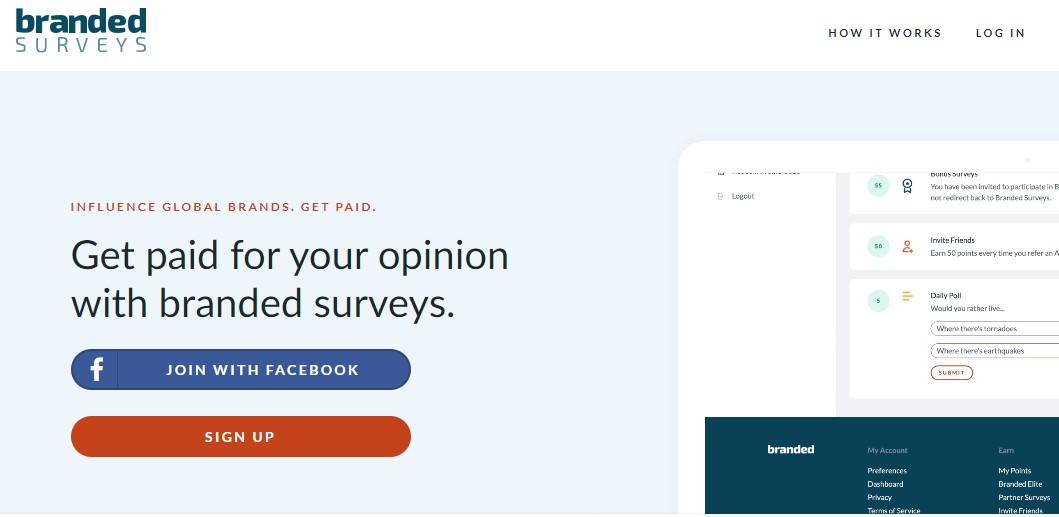 Formerly known as MintVine, Branded Surveys is a website that pairs with brands doing market research with real consumers for their opinions.
Earn points for completing surveys, then redeem the points for PayPal, Amazon, a prepaid Visa card, or a charitable donation to a cause of your choice.
Survey Junkie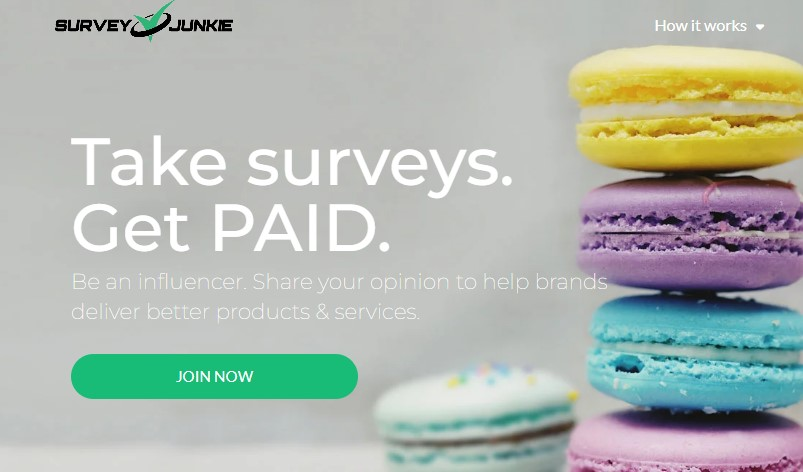 Survey Junkie is is a survey platform that will pay you virtual points for completing surveys, online or in app, about different products or services. Redeem your points for eGift cards or Amazon. You can also earn rewards by participating in SJ Pulse. Your online activity, across all devices, is monitored with the personal data aggregated, anonymized, and sold. This is a voluntary activity you can choose to opt into. You can earn about 500 points (or $5) for opting in to SJ Pulse.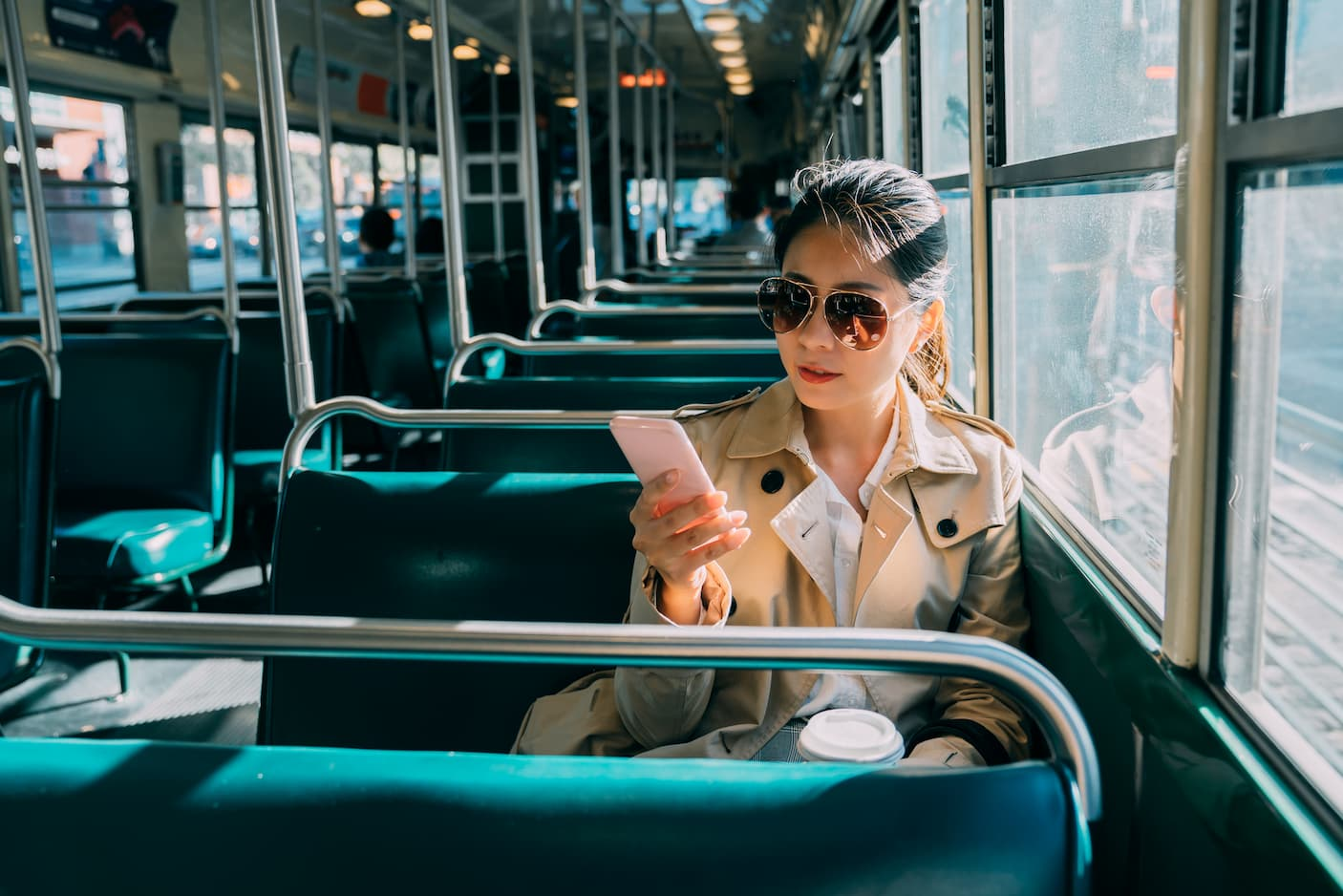 Keep in Mind
Doing paid surveys is a flexible way to earn a little extra money in the form of cash or gift cards. There is no guaranteed wage per hour or minimum monthly compensation. And besides, doing online surveys and opinion polls shouldn't feel like a job. It should feel fun and interesting. It's something you're doing on your downtime – in California or anywhere else in the US.
Remember that it should always be free to register for survey sites. You should never have to pay money to take surveys or make money. And when you sign up, a legitimate survey site will never ask you for your driver's license number, bank information, or social security number upfront. Your name, age (that you provide), and email is all you need to get started.
I've been doing paid online surveys for 8 years, and in that time I've made over $5,000. I tend to go at it in streaks and that number could realistically be a lot higher.
If you set a goal to earn $1,000 this year, that's only $2.74 a day. That's just a few surveys a day. And you can easily do Swagbucks or another survey app while you're watching TV or just scrolling through your phone.
And really, anyone who has ever wasted time scrolling through their phone should be cashing in on their boredom. Take surveys, share your opinion with people who want it and will pay for it, and get that extra guap (money).
Categories