Paid Surveys: Chicago Survey Opportunities
Do you live in Chicago and want to make money online through market research studies and paid online surveys? Good news! There are loads of paid surveys and market research participants needed.
Market research firms partner with survey sites like Swagbucks to get fresh insights from people of all backgrounds – Chicago and beyond. It's a great way to earn some extra cash.
The survey site offers a variety of rewards that can be exchanged for free PayPal cash, Amazon gift cards and other top-rated prizes.
Get Paid for Surveys in Chicago
There are tons of side hustles you can do in your free time to make some extra cash. And one that's popping up right now is paid online surveys. Literally, it pays to have an opinion.
Answering some paid online surveys for free cash and gift cards in Chicago is a great way to make your free time more rewarding.
It's a great side hustle stack or standalone gig (while watching TV or chilling in your downtime). Some surveys pay more than others. On Swagbucks, for example, online survey takers can earn $500-$2k annually by taking part in these fun survey polls from major brands on Michigan Ave and lots of smaller companies too.
The rewards are ultra-rewarding with Swagbucks. Some Swagbucks members have even earned more than $20,000!
Paid Surveys Chicago: How Do They Work?
Starting with paid survey is easy, too.
You can sign up with a free, trusted survey site in less than 60 seconds. See the list below. You'll then have access to paid online surveys and any other earning opportunities (small online tasks for cash) on the rewards site.
Look over online surveys on the main survey hub or dashboard. Check out different surveys that are available. At a minimum, you can see the survey payout and the approximate amount of time it'll take you to do the survey. There may be more detailed info available, like the topic or target audience.
After this, you'll answer a short pre-screener. It's some questions to see whether or not you meet the basic requirements, like your location or if you have school-age children. In order to answer the survey and get the payout, you will need to qualify for the survey and complete all the answers in full.
Market research is big business. The money for doing surveys comes from brands who have set budgets to gather consumer opinions through questionnaires and personal interviews, but there are also companies that specialize in online surveys.
Survey sites like Swagbucks connects consumers who want to do paid focus groups and surveys with brands who do market research and want to register participants.
The survey site will pay you for taking the survey. The brand or market research company pays their clients – the survey site – and then the survey site shares the payout with you. That's how you make money for surveys.
For the most part, the longer the survey the more money you'll make.
Top Paid Online Survey Sites for Chicago, IL
Here are some of the best national data research and paid survey websites that Chicago residents can try.
Swagbucks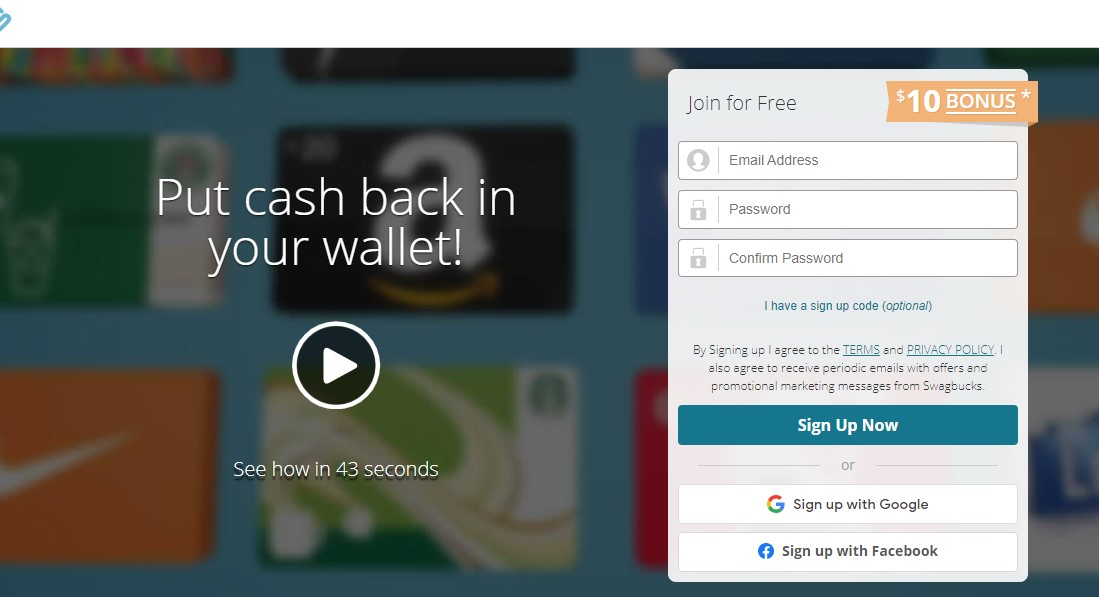 If you're looking for an easy way to make some money from surveys, look no further than Swagbucks.com. Visit the popular website or check out the Swagbucks app in iTunes or Google Play.
With their endless paid surveys, your opinions really matter. You help Fortune 500 businesses create better product solutions and earn money while you're at it. All from your pajamas on your Erie St balcony. It's not just surveys. Swagbucks offers a bunch of ways to make money from your laptop or phone, like playing games, shopping online, live trivia, searching the web, trying new products and new apps, and much more.
With many paid surveys, there's the possibility of being invited to participate in more upcoming studies and live focus groups after. These focus group and in-person research opportunities can be very lucrative.
Keep in mind that the online surveys themselves are worth your while. You can complete most 5 to 25 minutes and earn $0.50 to $10 a pop. Plenty of Swagbucks participants earn hundreds, or thousands, of dollars each year.
Redemption options start from $1 with the option to get a $1 Amazon gift card. Other payout options include PayPal, gift cards to other popular stores, prepaid credit cards, a check in the mail, or even physical prizes. Earn SB for surveys. It's 100 SB to one-dollars US, and the process to checkout is easy and straightforward.
Inbox Dollars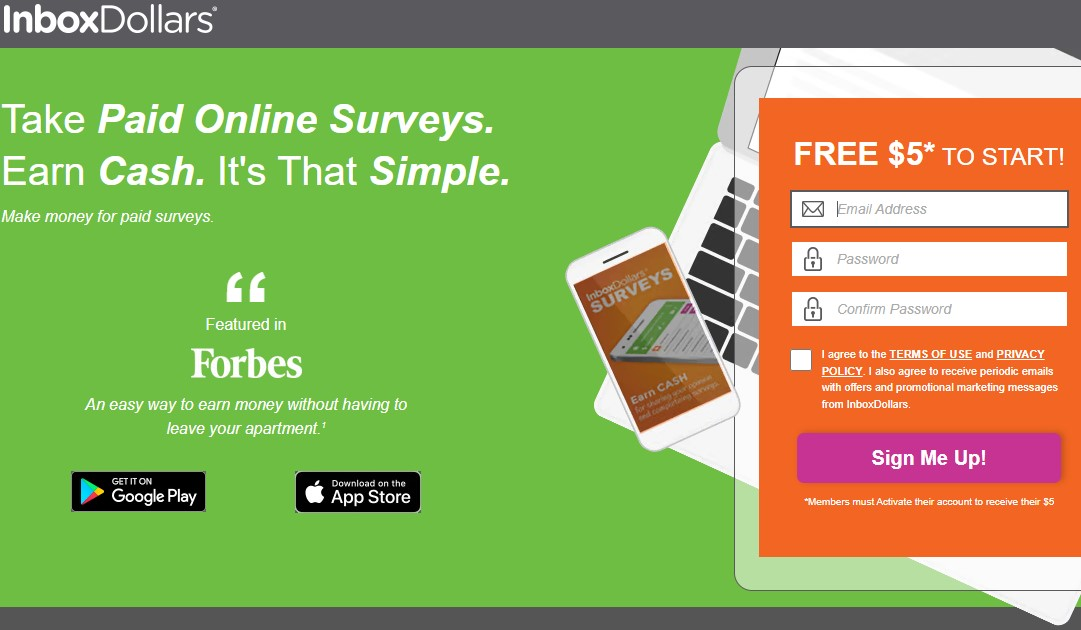 InboxDollars is a great site for earning money while you watch TV, lounge around in your PJ's, or are just scrolling mindlessly through your phone. Topics touch on just about anything, ranging from human resources practices to the new bar on State St.
They have paid out over $70 million in cash and free gift cards to survey takers. Earnings are paid out as PayPal, gift cards, a check in the mail, or other fun reward options.
Make money by taking surveys, but also get rewards for doing other fun activities like playing games or reading emails. Rewards can be earned while you're out of town and even when your phone is dead!
Make money by taking surveys, but also get rewards for doing other fun activities like playing games or reading emails. Rewards can be earned while you're out of town and even when your phone is dead!
InboxDollars pays you in dollars and cents, not points or virtual coins the way some other survey websites do. You'll always know how much money you're at instead of trying to do the math on a gazillion points.
And InboxDollars will pay you to give them a try. Sign up and create a free InboxDollars account and you'll get a free $5 bonus.
MyPoints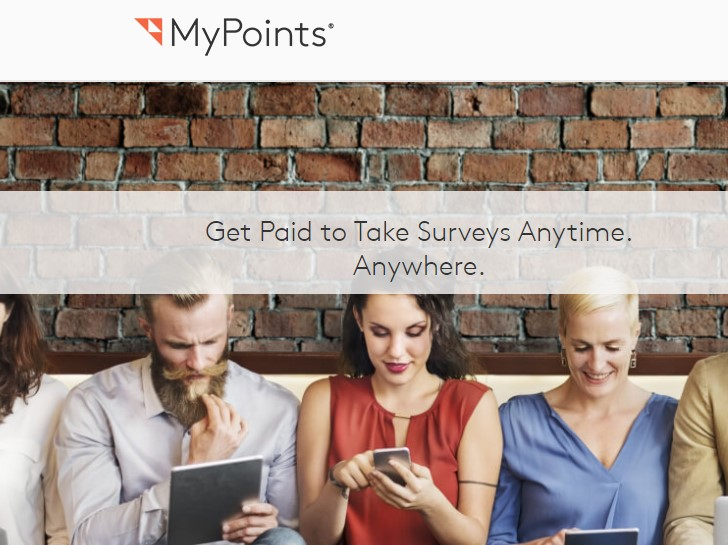 While many people know MyPoints as a cashback shopping site, MyPoints offers a number of other ways to earn money. Their online surveys are growing steadily in popularity.
Take surveys about a variety of topics (from the new art institute to your favorite food delivery company) and you'll earn points that you can redeem for gift cards or PayPal.
Most MyPoints surveys take from 5 to 25 minutes to answer in full.
Branded Surveys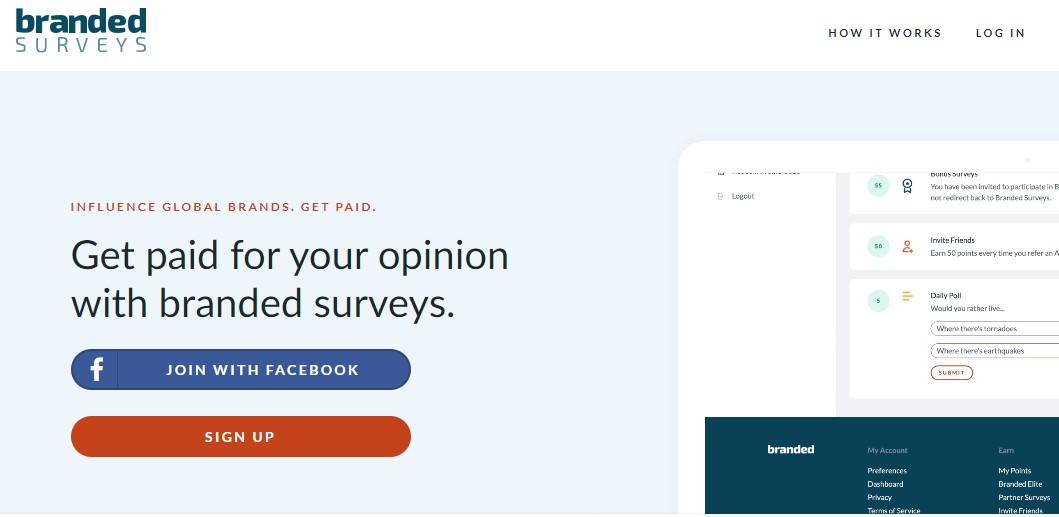 Branded Surveys connects survey participants with marketing departments and market research firms
You'll get paid in points that you can use towards eGift cards, PayPal, or a charitable contribution to a cause of your choice.
Opinion Outpost

Opinion Outpost is a survey program that pays you points for taking online surveys. Get points that you can trade in for gift cards and PayPal.
Although this survey app doesn't have any other tasks or activities for you to make money, Opinion Outpost is a trusted survey company to make money online.
LifePoints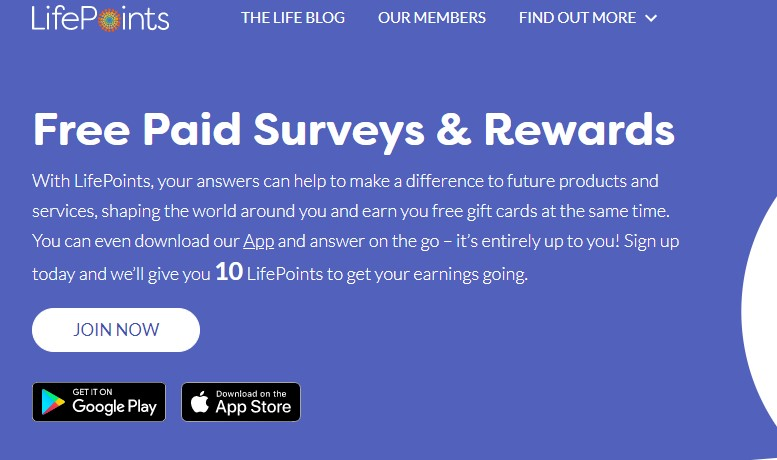 LifePoints is a survey website that pays participants points for offering their opinion on consumer polls and surveys. Points earned are good for PayPal cash or a digital gift card.
Like the Opinion Outpost program, there are no non-survey earning activities. LifePoints has surveys and surveys only. Still, as a reputable site LifePoints may be worth trying out. Especially if you are looking for a second or third survey app to do.
Survey Junkie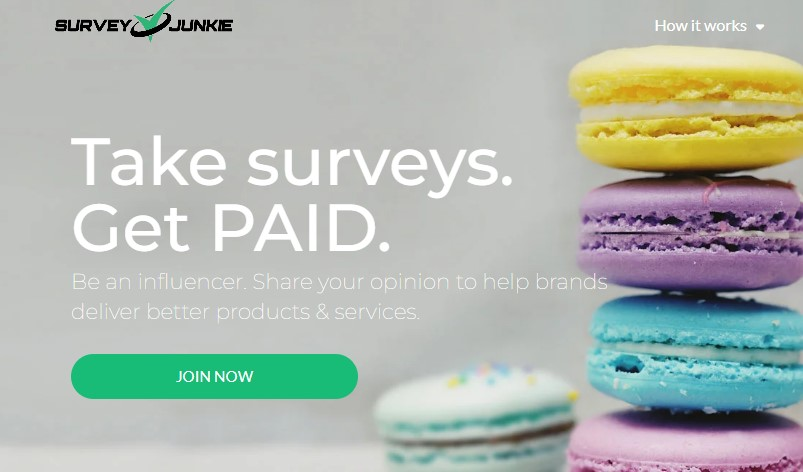 Survey Junkie is is a survey website that connects participants with businesses from around the world gathering market research.
Earn virtual points for your efforts, points you can redeem for digital gift cards to popular stores.
While Survey Junkie has limited ways to earn rewards, you'll find it's a user-intuitive site that is easy to navigate.
Can I Do In-Person Focus Groups and Studies in Chicago?
Yes – you can do live focus groups and research studies in Chicago.
These in-person activities can include food taste tests, discussion panels, and trying new products in test labs. Some of these activities may be remote, like a Zoom call interview to ask you about a product.
Chicago Paid Focus Groups to Check Out
Marca Chicago
Smith Research
Rex Digital Marketing
P&K Research
Focuscope
Adler Weiner Research
Larko Group
University of Chicago (medical trials)
Great Lakes Clinical Trials (medical trials)
With some of these businesses, you should be able to register to get a job alert when there's a new market research opportunity. You can typically get the latest job alert via email. And many respondents prefer to call in. They feel they're more likely to find their next in if they can talk to someone directly.
The compensation for in-person focus groups can be a lot more than a random paid survey online.
But it is important to factor in travel, parking, childcare, your regular 9-5 job schedule, and other impediments. Additionally, it's usually more competitive to qualify for these like studies.
Many Chicago survey takers have found that the compensation offered just isn't enough to justify tracking down Touhy Ave during rush hour.
As an anecdote, there was an espresso machine study I turned down earlier this year. A coffee junkie, I really wanted to participate. The stipend offered was $100 and a gift card for lunch at a nearby restaurant.
But I calculated the costs and it did not back out. I would have had to take off from work (at a job that pays more than $100 per 6 hours), reorganize childcare pickup, and hope that rush hour traffic was not one minute busier than usual.
Still, if you have an interest in helping a business do live research, this could be a lucrative fit. Some people like jury duty or medical studies or doing consumer panels. They find it fun.
Ohio St alone has dozens of market research firms, and it's not just the downtown area. It's all over Cook County and throughout Illinois and the US as a whole.
Parting Words
An online survey side hustle has lots of upsides. In my experience, I find it to be a flexible and convenient way to earn some extra cash. And I love seeing the ads and trailers for new products that have not been released yet. (You have to agree to not spill the beans.)
When my husband's snoring wakes me up at night, or I'm stuck in a center seat for a 4-hour flight, surveys are a good way to kill the time. Whenever I have downtime, really, surveys can make it productive.
If you do just a few surveys a day (banking $2.74 a day), while riding the bus or your Peloton or watching TV, you can earn an extra $1,000 a year.
Trending Articles:
Categories