Paid Surveys: Los Angeles Survey Opportunities
So you're in Los Angeles, CA and you'd like to make some extra money doing market research studies and surveys? Good news! You'll find loads of paid surveys and focus groups for Los Angelinos to make money doing online surveys.
Research firms work with businesses that need consumer feedback. They need the opinions of people from all backgrounds and states to take surveys – and this includes Orange County.
Before a company makes a major decision, like launching a new product, marketing research from a diverse range of consumers is key.
These businesses join up with online survey sites and paid focus groups to gain valuable consumer insights. In exchange for your time, you'll get compensated.
Los Angeles survey takers can take anywhere from a couple of dollars to a couple of hundred dollars for taking part in paid survey opportunities. Most online surveys pay around fifty-cents to five dollars. Complete a handful of surveys a day, you can see how that can add up to a nice pay day.
Survey rewards include free PayPal cash, free Amazon gift cards and gift cards to other popular stores, prepaid Visa or Mastercards, cryptocurrency, and prizes and sweepstakes entries.
And while Los Angeles, CA is a big established hub for business market research, with online surveys anyone interested in surveys can cash in on their opinions. With online survey sites, participants from San Diego, Santa Monica, and beyond can earn money doing surveys. This includes locations outside of California and throughout the US. No matter where you live in the US, your city (or zip code) is included.
Get Paid for Surveys in Los Angeles
Answering some paid online surveys for free cash and gift cards in Los Angeles is a great way to make your free time more rewarding. Literally.
. Whether surveys are your side hustle stack or a here-and-there sort of thing, you can realistically earn an extra $5oo to $2,500 each year. The survey giant Swagbucks has got loads of members who make hundreds of dollars each month. Some Swagbucks members, called Swaggernauts, have even earned more than $20,000 with the Swagbucks program.
Paid Surveys Los Angeles: How Do They Work?
It's pretty quick and simple to start taking surveys.
Sign up with a trusted survey site (more on that below). It's free to sign up. The registration process usually takes about 60 seconds – or less.
Next, you'll want to check out the surveys page or survey dashboard. Here you see what paid surveys are available.
Answer the paid survey. Participants do need to first do a short pre-screener to see if they meet some basic requirements. To complete the survey and earn the associated reward, you need to qualify for and then complete in full the online survey.
The money for doing surveys comes from the brands conducting market research. These companies have budgets set aside to gather consumer opinions through surveys. They will often work with market research companies like Schlesinger Associates or Mondo Research.
After you finish taking a survey, the brand or focus group company will pay the survey site – like Swagbucks which connects consumers who want to do paid focus groups and surveys with brands who need participants.
So the brand pays the paid survey website, and then that survey website will share the reward with you. That's how you get paid for taking surveys. Commonly, it's about 50:50.
Most of the time, longer surveys pay the most money. The extra money reflects the extra time and effort needed. Shorter online surveys tend to pay less.
Top Paid Online Survey Sites for Los Angeles
Here are the best survey websites and survey apps that LA residents can try.
Swagbucks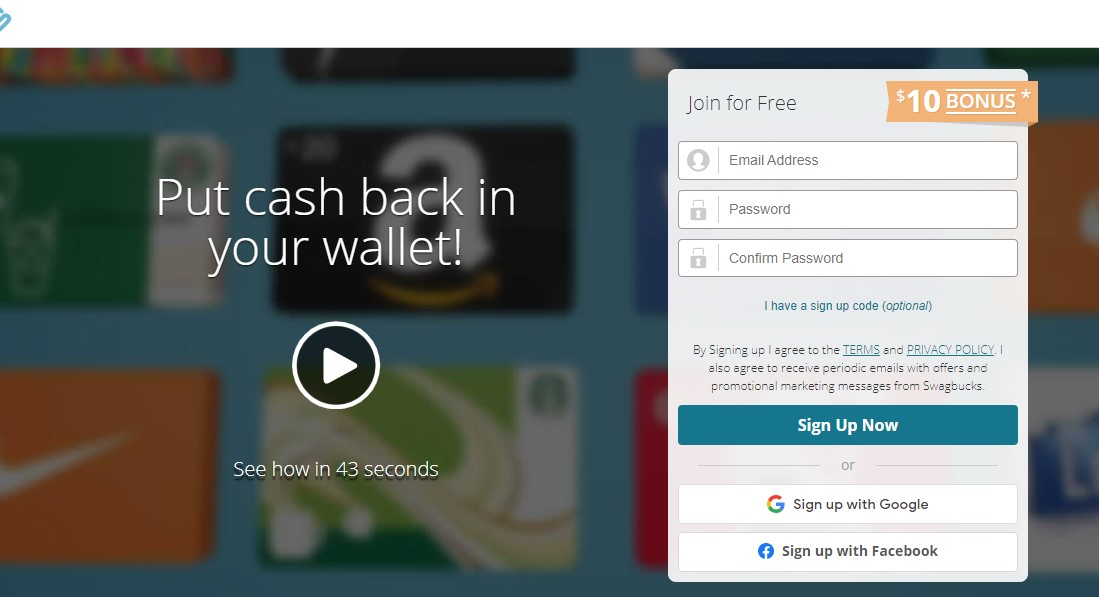 Swagbucks is one of the best and most well-known online survey programs. You can take surveys on the website at Swagbucks.com or with the Swagbucks app for Android or for iOS.
Based out of Los Angeles, California, Swagbucks is a must-know for any Los Angelino looking to cash in on paid surveys and market research studies. (Ok, it's technically located in El Segundo on Maple Dr. But the cities are side by side and it's pretty much the same thing.)
Swagbucks has a huge number of ways for you to earn cash on your laptop, computer, or smartphone. Earn rewards for taking surveys, playing games and trying new apps, searching the web, trying free samples, shopping online for cash back, and more.
With many surveys, you have the possibility of joining a focus group, taste tests, one-on-one interviews, or other consumer panels afterward. These in-person opportunities can be very lucrative. As one example, you might do a survey about different colored sunglass lenses. After the survey, you may be invited to go in and try on different sunglasses and give your feedback. If there is a related in-person opportunity, you'll be asked if you are interested in participating. Then, you can provide your contact details.
For online surveys, these alone can be very lucrative. Most will take 5 to 25 minutes to finish and will pay $0.50 to $10.
Redemption options start from $1 with the option to get a $1 Amazon gift card.
Inbox Dollars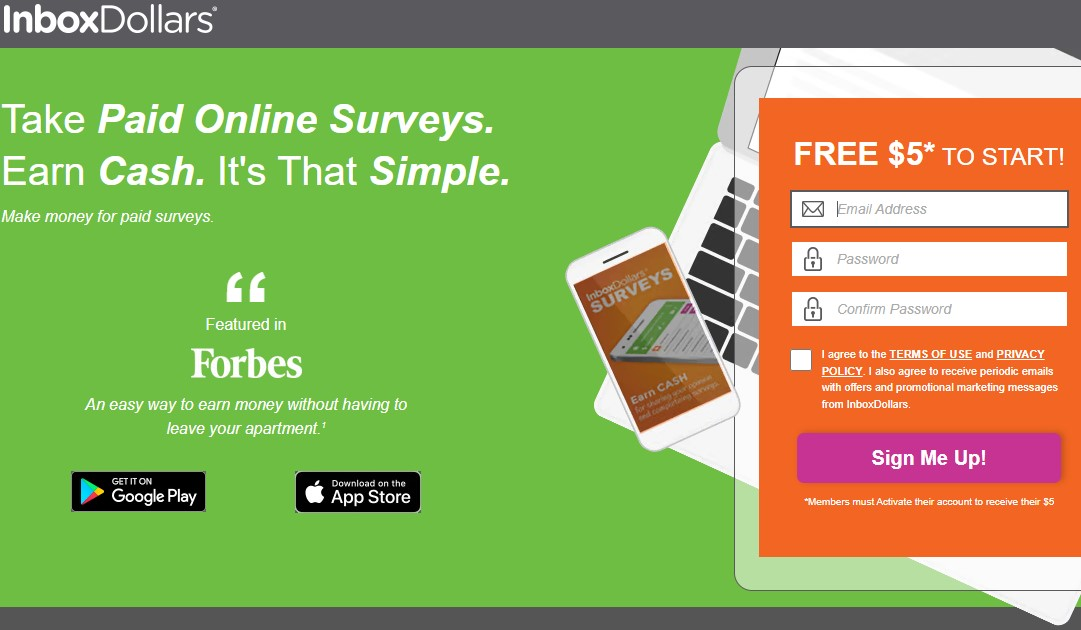 InboxDollars is a tried and true, quality survey site. It's paid out over $70 million in cash and free gift cards to members for answering paid surveys for a wide range of topics.
On top of making money for answering surveys, get rewards for other fun activities too. Get paid for playing games, reading emails, searching the web, testing new products, scanning receipts, and more.
You'll earn your rewards in dollars and cents, not virtual currency (i.e. points) like a lot of other survey sites do. And you can even get paid when you create an account! Join InboxDollars for free and you can get a free $5 reward for getting started.
It's easy to redeem your earnings too. Cash them out for a free gift card to your favorite store, free PayPal cash, or a check in the mail.
MyPoints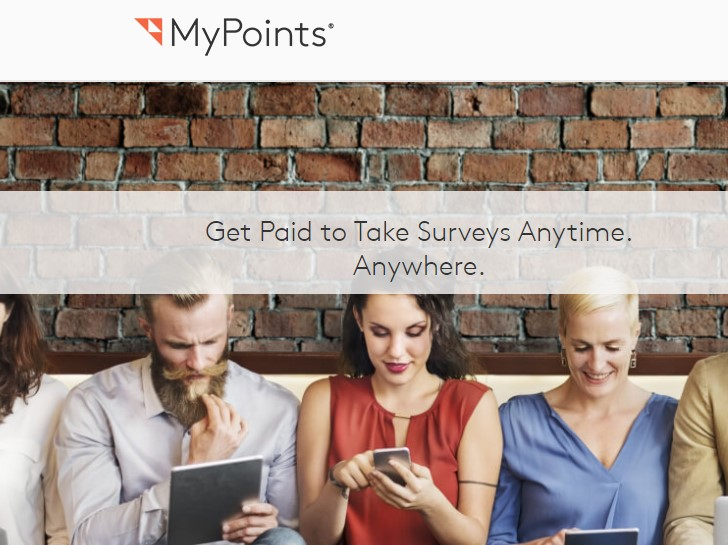 MyPoints is best-known as a cashback shopping rewards site. As the name implies, you earn points for shopping online at eligible stores (there are thousands to choose from), and you redeem your points for gift cards or PayPal cash.
MyPoints offers you plenty of other ways to earn money online too. MyPoints knows that shoppers passionate about earning cash back rebates and scoring the best deals are hustlers at the core and interested in other ways they can make some extra cash online or in the MyPoints app.
MyPoints has surveys on a diverse range of subjects, from life goals to traffic commute times to your favorite flavor of potato chips. For some of these surveys, you'll do related activities like watching videos of movie trailers or car ads. Or my favorite: listening to music from a local radio station and giving your feedback. Your answers let companies know what songs are boppin' and what's played out.
Most of these paid surveys will take about 5 to 25 minutes to do.
Branded Surveys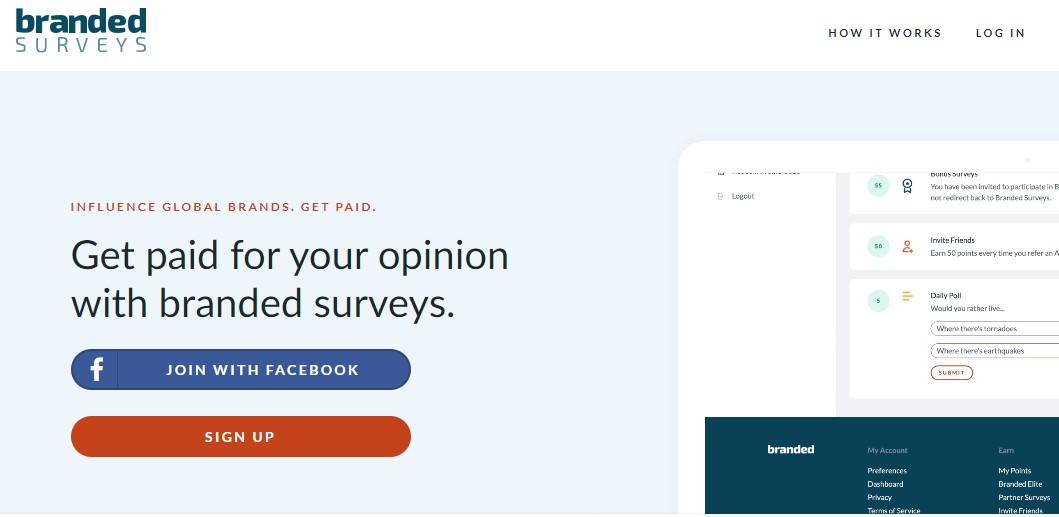 Branded Surveys is a survey website that pays you points for doing surveys about a host of different consumer topics. You're helping brands test out new concepts and ideas.
Accrue points as you complete online surveys, and then you cash them out for a donation of a charity or special cause, prepaid Visa debit card, PayPal deposit, or an eGift card for Amazon.
Opinion Outpost

Opinion Outpost is a survey website that gives users points for taking online surveys about different topics. Give your opinions, get points, and then trade them in for Amazon gift cards or PayPal.
While Opinion Outpost doesn't have other activities to earn money (it's just surveys), Opinion Outpost is still a solid site to make extra money.
LifePoints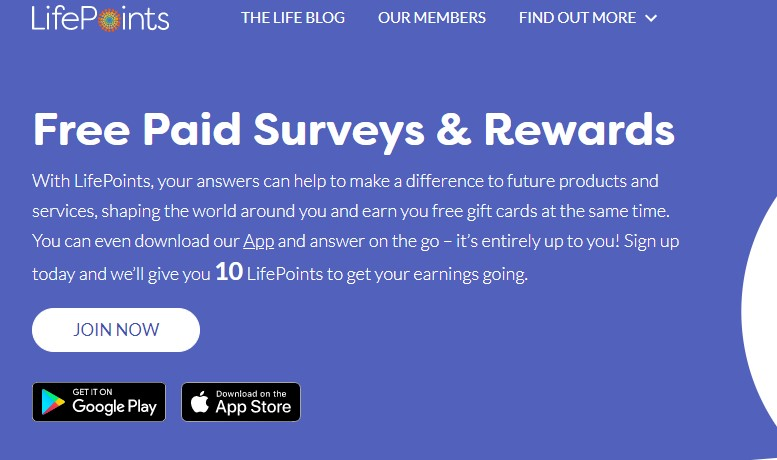 LifePoints is a survey program (website and an app) that will pay survey takers points for sharing their opinions. Earn points for surveys and then cash in those points for PayPal or an eGift card.
Like Opinion Outpost, LifePoints has no other ways to earn cash. It's just surveys. That said, LifePoints is a reputable paid survey site and a legit way you can make money online.
If you're going to just one paid survey program, LifePoints might not have enough opinion surveys and activities to keep your interest. But if you're into surveys and you want to join more than one site, you should consider LifePoints. Many survey participants do a handful of survey apps so they can really max out their earning potential.
Survey Junkie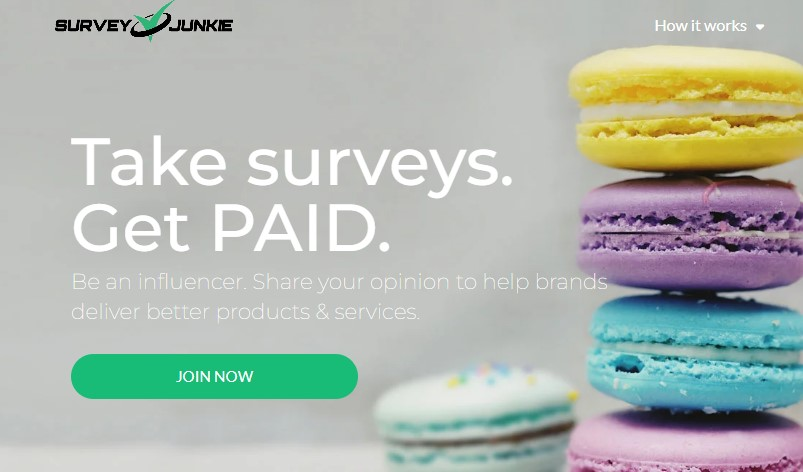 Survey Junkie is an online survey site for consumers. Earn virtual points for taking surveys online or in the Survey Junkie app. Use your points for eGift cards. Survey Junkie doesn't have any non-survey earning opportunities, but it's a clean, easy-to-navigate survey site.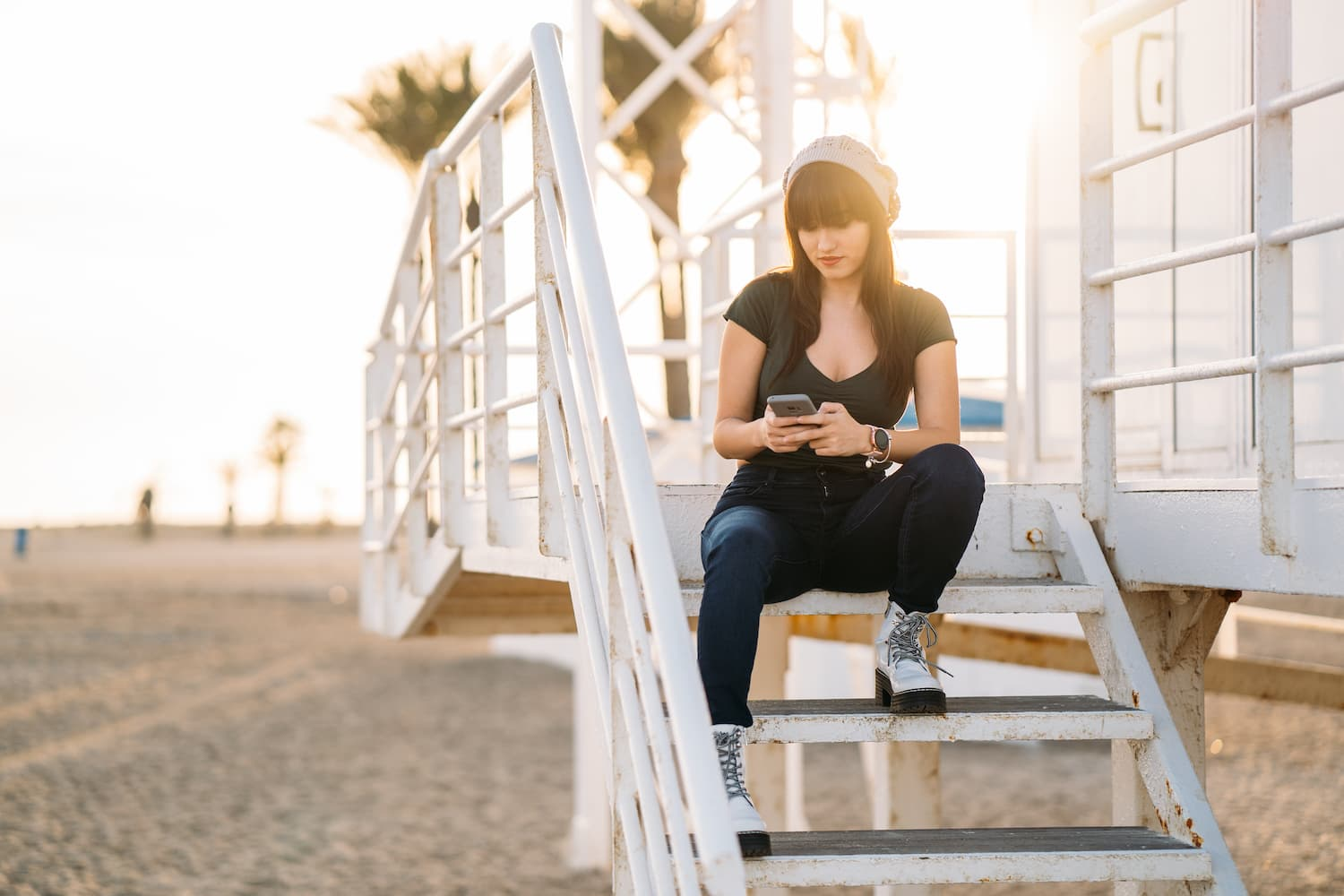 Can I Do In-Person Focus Groups and Studies in Los Angeles?
Yes – you can do live focus groups and research studies in Los Angeles. This can include food taste tests, one-on-one interviews, discussion groups (about different products and services), and trying out new products. Researchers often want to observe how real-life consumers interact with their products.
Los Angeles Paid Focus Groups to Check Out
Schlesinger Associates
TAVO Media Group
The Focus Room
Jolly Road Productions
Q-Insights
Polaris Marketing and Consulting
Facts 'n Figures
Juarez and Associates
UCLA (medical studies and clinical trials)
Clinical Research LA (medical studies and clinical trials)
The compensation to participate in live focus groups can be substantially more than doing paid online surveys.
However, with travel time and traffic conditions, it can be difficult to reach these locations throughout L.A. and the greater city limits. Also, it's often much harder to qualify for in-person market research studies than online polls and surveys.
You may find that compensation is not enough to offset the cost of gas and parking or travel, childcare, or taking time away from work. As an example, there was an espresso machine study I was very much interested in several months ago. The pay was $100 for 6 hours of time (product testing, product tasting, and group discussions). I would have needed to take off of work, arrange for childcare pickup, and spend nearly 2 hours in traffic. For me, it just would not have backed out. I would have lost money participating in that particular study.
But if you have time to spare and an interest in doing in-person research, you should definitely look into some of these market research companies in Orange County. If you're not in the area, there are plenty of market research firms located throughout California and the whole country.
Parting Words
Answering paid online surveys can be a fun and flexible way to earn some extra cash. Keep in mind that reputable survey sites are always free and you should never have to pay to join.
I've been doing paid survey apps for the past several years (mainly InboxDollars and a couple of others), and I've made over $5,000 in about 8 years. For several months straight, I'll do at least a couple surveys a day. And then there'll be long stretches where I don't do any otherwise I could probably have earned double that.
You can earn $1,000 a year doing surveys online – that's just $2.74 a day to hit four-figures. This means you just need to complete a few online surveys per day. It's easy to do Swagbucks while you're watching TV or just scrolling on your phone.
Trending Articles:
Categories