Texas Paid Surveys
So you're in Texas and you'd like to make some extra money with paid focus groups and surveys? Great news, You're in luck! There are a number of opportunities for Texans to make money with paid online surveys and national research for large marketing firms.
Market research companies work with big companies who want your opinions. They need feedback from people all across the US – and this includes Texas.
Before businesses spend extra money, they need to invest in research. They want to know what you think about their new slogan or logo or product features. Working with survey sites like Swagbucks, businesses will ask for your feedback in the form of surveys. Your feedback enables better services and goods to get created.
Texas survey takers earn anywhere from a couple dollars to a couple hundreds dollars for a paid survey or focus group opportunity. Most paid online surveys pay offer fifty-cents to five dollars in pay, but they take minutes to complete and you can do them from your house. A few surveys a day can translate into $1,000 or more every year.
>>> Join Swagbucks and earn cash, PayPal, and free gift cards for completing paid online surveys.
Survey rewards are straightforward. Usually it's PayPal cash or Amazon. Some survey sites will offer other popular gift cards or prepaid Visa cards. Swagbucks offers the widest range of reward options: PayPal cash, Amazon, gift cards to popular merchants, cryptocurrency, prepaid Mastercard, check in the mail, or sweepstakes entries for cash and gift prizes.
Get Paid for Surveys in Texas
It's easy to get paid for surveys in Texas. Even as a casual pursuit, just earning $2.74 a day, that's $1,000 a year. Most survey takers can reasonably earn $500 to $2,500 a year.
Doing online surveys for cash in your free time offers a lot of flexibility and freedom. You can do surveys while you're watching TV, riding the bus, or waiting on your flight. If you're feeling fidgety or have time to kill, surveys or a great way to make some money while you're at it.
Popular surveys site Swagbucks has casual survey takers and super dedicated ones who have made over $20,000 since joining Swagbucks.com.
How Paid Surveys in Texas Work
Doing paid surveys in Texas is pretty easy. Here's how to get going.
Join a reputable survey site (we'll recommend a few below). Reviews in app stores, social media presence, and real member reviews are key things to look for. It's always free to sign up for a legit survey site and should take you about 30-60 seconds to register.
Go to the surveys page or survey dashboard. Look over available surveys and try one you are interested in. You should always see the survey payout amount and estimated completion time.
Take the survey. Participants do need to first complete a short pre-screener to make sure that they qualify. If it's a survey about Gen Z (born 1997 to 2012) shopping habits and you were born before 1997, you would be disqualified.
After taking the survey, the reward will be credited to your account. On Swagbucks, it takes under a minute for the payout to get added. For other survey apps, it can take anywhere from a couple of minutes to a couple of hours.
The money to pay survey takers is from brands doing market research. After the survey is answered in full the company will pay the surveys rewards site who in turn pays you a portion of their earnings.
Usually, the longer the survey the more it will pay.
Top Paid Online Survey Sites for Texans
These are the best surveys for money opportunities in Texas.
Swagbucks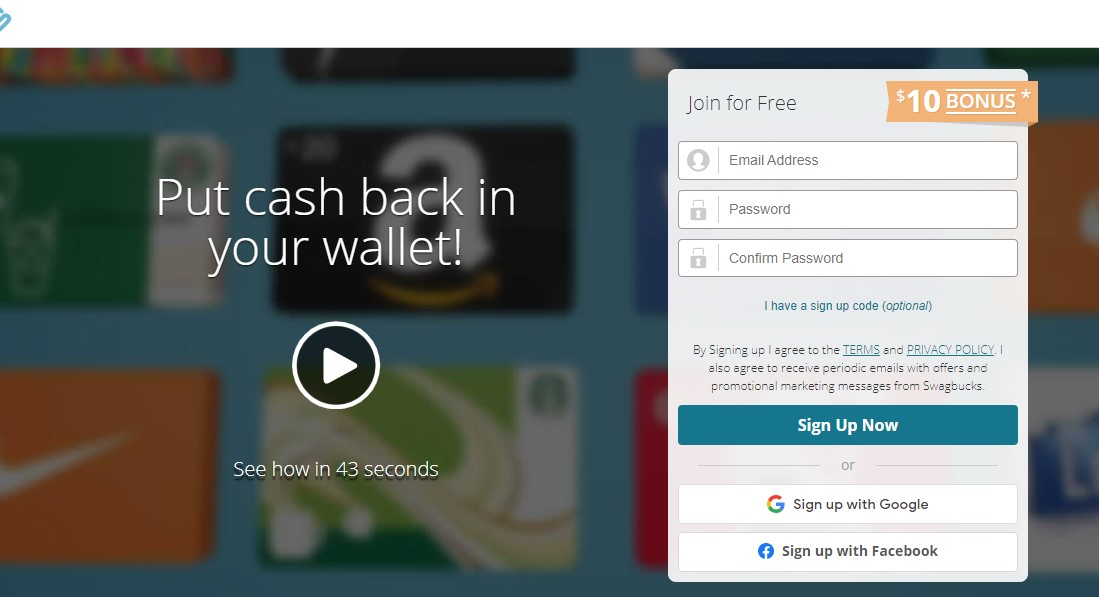 US-based Swagbucks is one of the most popular paid online survey sites. It's received heaps of coverage in finance blogs and media outlets, so many people are familiar with the name.
Founded in California in 2008, Swagbucks pays its members cash for taking online surveys, scanning receipts, answering live trivia, playing games, searching the web, shopping online, inviting friends, and more.
You can take surveys on the Swagbucks app or on the Swagbucks.com website.
With some surveys on Swagbucks, you may be able to join focus groups afterward. At the end of a survey, you could be asked if you're interested in doing further research and to give your contact information.
A majority of online paid surveys pay $0.50 to $10 and take 5 to 25 minutes to complete.
You can cash out quickly too. You can even redeem a $1 Amazon gift card.
Inbox Dollars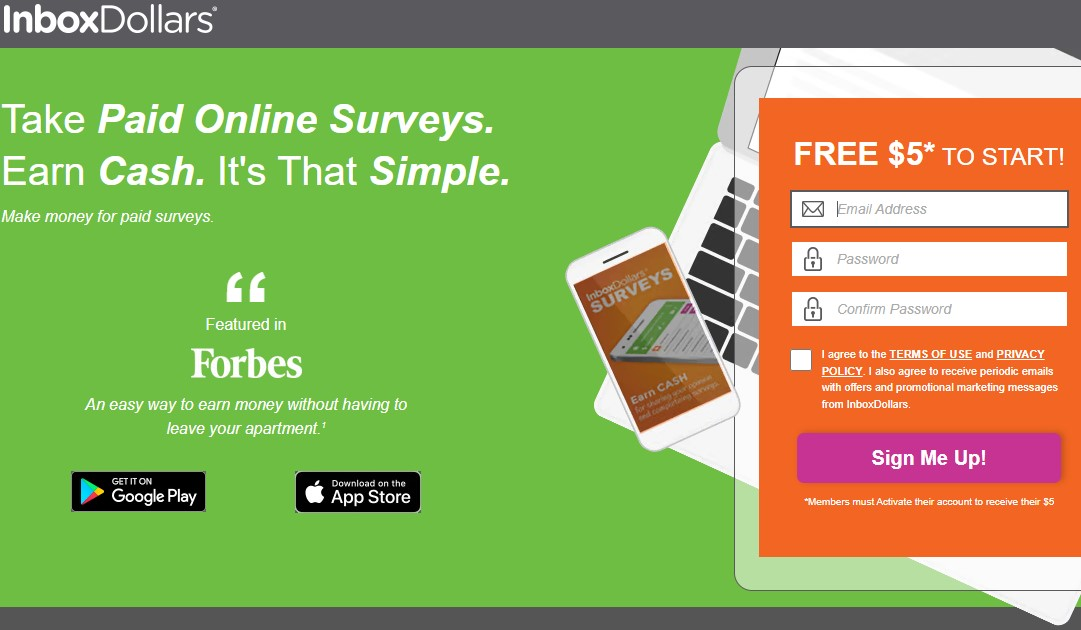 Minnesota-based InboxDollars is a trusted survey site that's paid over $70 million in cash, gift cards, and free PayPal since 2000.
Tried and true, InboxDollars has plenty of ways for you to earn extra cash. InboxDollars is known as a surveys site, but you can also earn cash for reading emails, playing games, scanning receipts, searching the web, shopping online, using coupons, and redeeming WinIt codes.
To join, visit InboxDollars.com or download the app from iTunes or Google Play.
A major selling point for InboxDollars is its transparency. InboxDollars pays you in dollars and cents, not points or other virtual currency. Cash out for a check in the mail, free gift cards, PayPal cash, prepaid Mastercard, or other reward options.
Best of all, you'll earn a free $5 bonus for signing up. That's $5 free just for joining InboxDollars.
MyPoints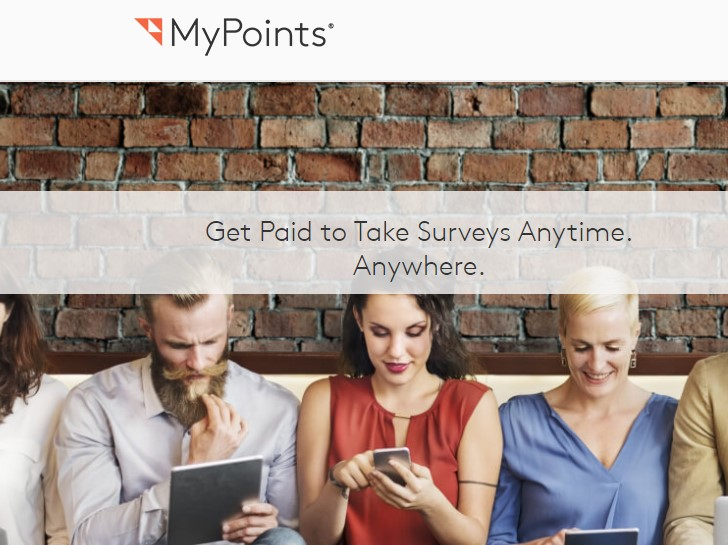 You may know MyPoints as a cashback shopping portal. Shop online at thousands of eligible merchants, and accrue points that you can use for gift cards and PayPal.
But you might not know that you can take surveys, play games, scan grocery receipts, and complete plenty of other fun activities. Use MyPoints on MyPoints.com or with the app.
You can do MyPoints on the MyPoints.com website or through the MyPoints app.
For some of the surveys, you can even watch movie trailers or new songs and give your opinion. MyPoints is definitely a fun way to earn extra cash.
Opinion Outpost

Opinion Outpost is a survey site that awards points for taking online surveys on a range of issues and topics. Points you earn can be used for PayPal or a gift card to Amazon.
Unlike the other survey sites Swagbucks, InboxDollars, and MyPoints, Opinion Outpost doesn't have any other non-survey activities. Opinion Outpost also has fewer reward redemption offers. Still, Opinion Outpost is a legitimate site.
LifePoints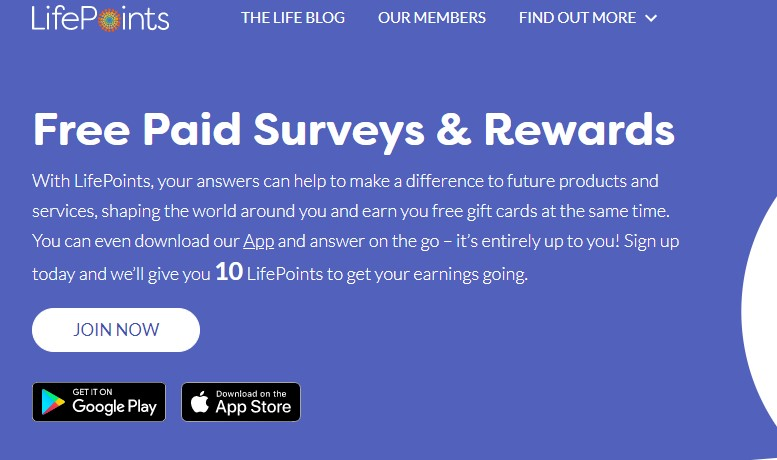 LifePoints pays survey takers points for answering online surveys on LifePoints.com or in their survey app. Use your points to get PayPal or free eGift cards.
Other than paid online surveys, LifePoints has no other activities to get rewards. Nonetheless, LifePoints is a reputable online survey panel and a decent method to make money online.
Although I don't recommend LifePoints if you're going to register for only one survey panel, LifePoints can be a good second or third online survey site to join. Many avid survey takers sign up for several paid survey website to max out their survey earnings.
Branded Surveys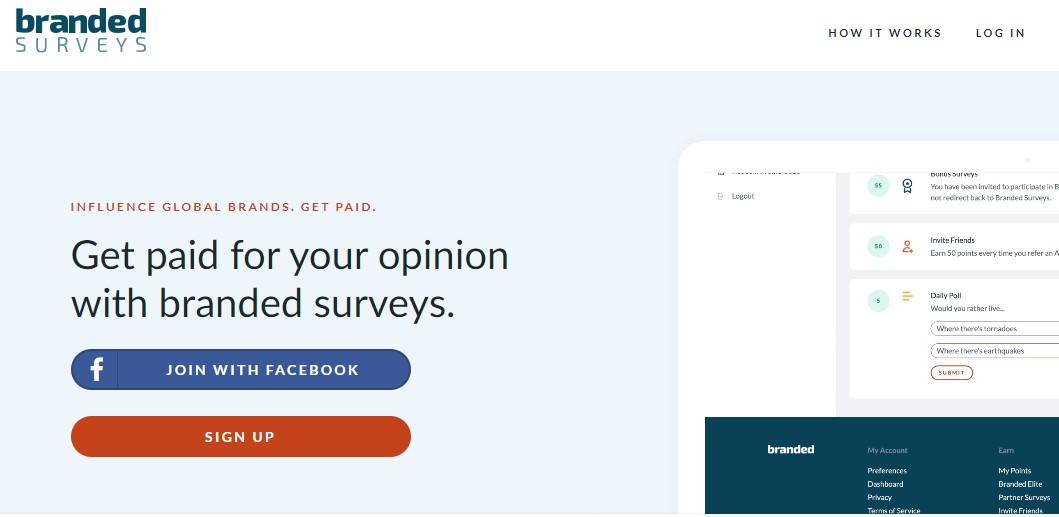 Branded Surveys used to be known as MintVine, but the company rebranded a few years ago. Branded Surveys connects businesses gathering consumer feedback with consumers who want compensation for sharing theirs.
You get points for doing paid surveys. Cash in points for Amazon, PayPal, or even a charity donation.
Survey Junkie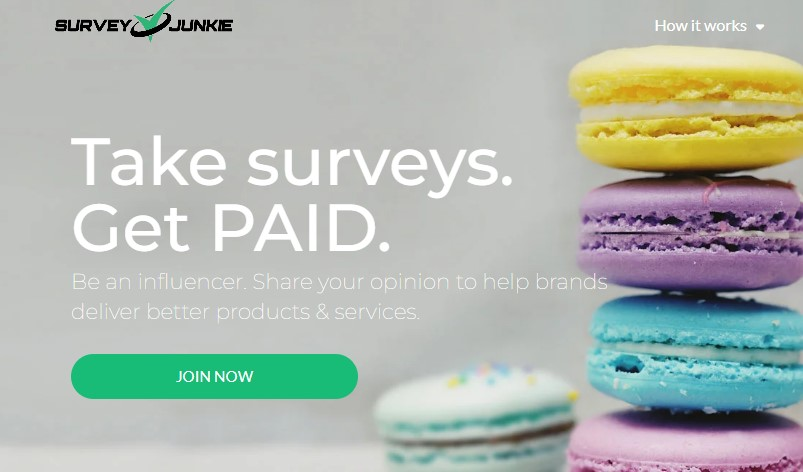 Survey Junkie gives you virtual points for taking online surveys on their website or through their app. Answer surveys about a range of goods and services. Then cash them out for a digital gift card for Amazon.com or another store.
Besides surveys, you can earn prizes for doing SJ Pulse. With this program, your activity on the internet, on all devices you use, is tracked. The internet activity is anonymized and sold to companies researching consumer behavior. It is a voluntary way to earn more money on Survey Junkie. If you opt in, you will compensated $5 or 500 points.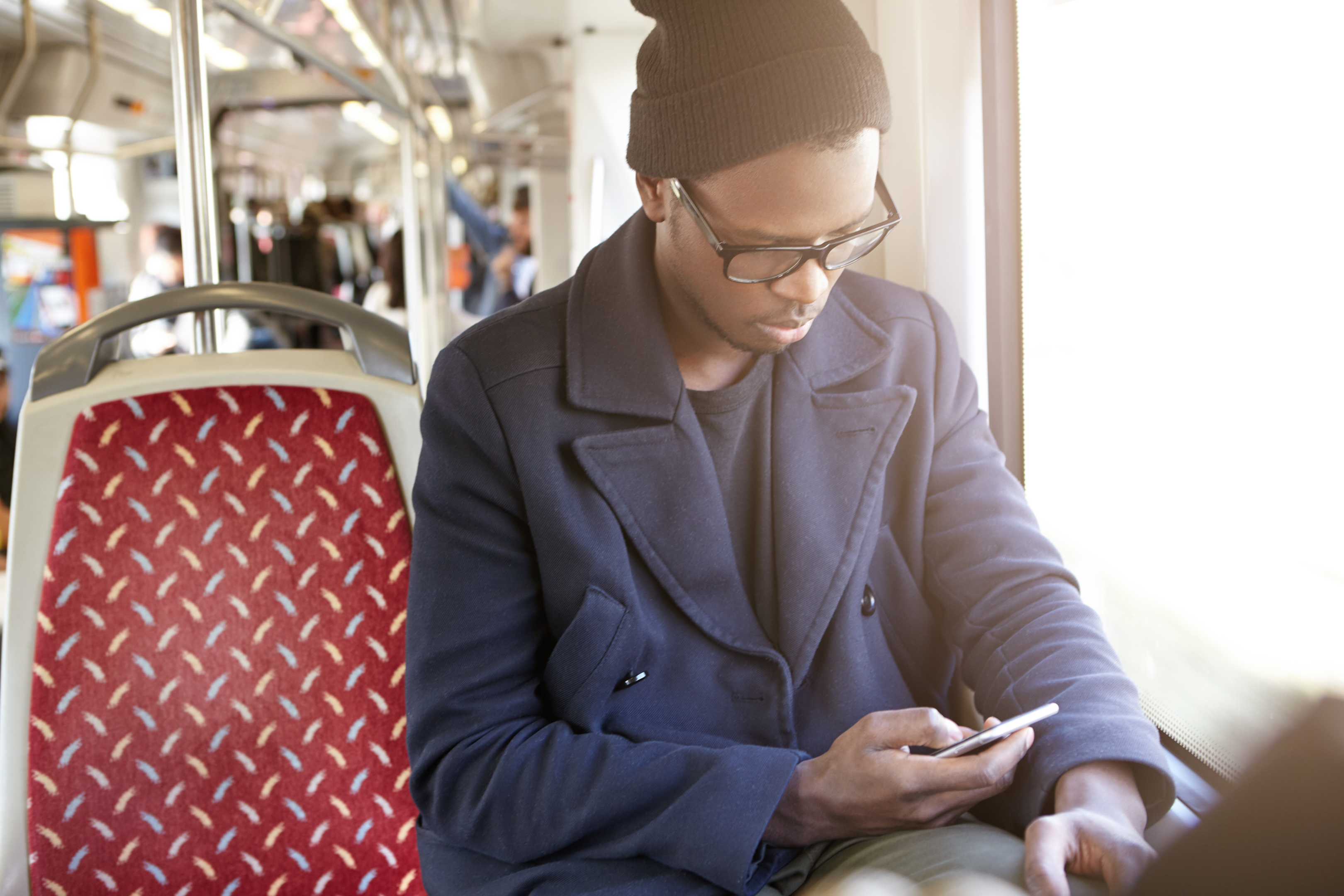 What to Keep in Mind with Paid Online Surveys
Answering online surveys is a convenient method to make money online – receiving your earnings as a gift card, PayPal, or other reward options. Keep in mind that this is not a regular hourly job. You're not promised any minimum compensation or an hourly wage.
But online surveys really should be a job or feel like a job. Online surveys should feel interesting and fun. After all, you're doing them during your spare time – in Texas and beyond.
It should never cost money to sign up for a survey website. If you are asked to pay to join, that's a big red flag. It should be free. Also, the only information you should need to give is your name, age, and email address. You'll also have to create a password for your account.
Can I Do In-Person Focus Groups and Studies in Texas?
Yes! You can absolutely do focus groups, consumer panels, and other in-person research studies.
Larger cities like Houston, San Antonio, and Dallas, Texas may have the most opportunities because of the sheer number of agencies and market research firms based there. But you can do in-person focus groups and panels at locations throughout the state – and the country as a whole.
Research firms are always looking for panelists, product takers, and survey respondents. You can register to get new study alerts too.
Focus Groups and Paid Surveys: Dallas, TX
Schlesinger Group
RezRez Market Research
Market Research Dallas
Murray Hill National
K&B National Research
Focus Groups and Paid Surveys: Houston, TX
Schlesinger Group
Tricone Marketing Research
ConneXion Research
End to End User Research
Focus Groups and Paid Surveys: San Antonio, TX
Roger Christian & Company
Galloway Research Inc.
Frost & Sullivan
C&C Market Research
Focus Groups and Paid Surveys: Austin, TX
Hivemind Market Research
Think Group
Sentier Strategic Resources
Capitol Market Research
Focus Groups and Paid Surveys: Fort Worth, TX
Tara Wilson Agency
Aquatic Elephant Marketing
Social Sharks Marketing
Anchor Marketing & Design
Focus Groups and Paid Surveys: El Paso, TX
Hello Amigo
MerKado Teknia Research and Consulting LLC
El Paso Field Research Service
Competitive Edge Research and Communication
Focus Groups and Paid Surveys: Corpus Christi, TX
Pfeifer Market Research
Star Consulting Services
iHeartMedia
Curbside Marketing
Focus Groups and Paid Surveys: Arlington, TX
Decision Analyst
Symmetric Sampling
C&C Market Research
Texas Clinical Research Institute
CGE Marketing
Focus Groups and Paid Surveys: Lubbock, TX
Flint Avenue LLC
Stevendev Marketing
Aycock Mediaworks
Purpose Marketing
The payout for doing an in-person panel can be much more than doing paid online surveys. But you do need to consider the costs for gas, parking, travel, childcare, and taking off work from your regular 9-5 job. With those costs factored in, paid online surveys may be the better bet.
For example, I turned down doing an on-site consumer study about espresso machines earlier this year. And I'm passionate about getting my coffee buzz. The firm offered $100 for participating and free lunch.
The study overlapped with my regular work and daycare pickup. After I ran the figures for taking off time from work and reorganizing childcare pickup, $100 just wasn't worth it. Rush-hour traffic in the city center alone was enough to send chills down my spine. Perhaps the biggest deciding point was work. PTO is precious, and I didn't want to use it doing more work even if it did look fun and interesting.
If all the stars align – and there's a fun live consumer research panel in your area at a time that does not conflict with your schedule – go for it. Doing market research live could be enjoyable and literally quite rewarding. Still, it's something I'd suggest doing in addition to paid surveys, and not instead of.
Final Thoughts
I've done a lot of paid surveys, market research interviews, and other side hustle gigs over the past decade. Paid online surveys have been the highest paying and the most flexible – I can do them while my kids are running around at the park or when I'm in pajama pants and bingeing my favorite shows. I've made over $5,000 in the past 8 years of doing online surveys.
And to be frank, that figure should be a lot higher. I do surveys in streaks – going at it hard for months at a time, and then veering off with other distractions. If you do just 2-3 surveys a day, that's $1,000 a year. ($2.74 a day adds up to $1,000.)
Go ahead and give it a go. If you've ever wasted time on your phone, or sat around bored with time to kill, then you should cash in on your ennui. Answer paid surveys and give your uber-opinionated feedback to people who want it so much they'll pay you for it.
Trending Articles:
Categories