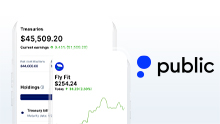 Categories
Featured Offers, Finance
Deposit $10 & Get $5 In Free Stock!
Public is an investing platform with a mission to make public markets work for all investors. Build a multi-asset portfolio of stocks, Treasuries, ETFs, crypto, and alternative assets—all in one place. Get a higher yield than a high-yield savings account with a Treasury Account on Public and earn a 5% yield.** Earn 2,000 SB* after depositing $10 or more PLUS receive $5 worth of stock on Public!
;
How it works
Enter your email address

Redeem the special offer

Receive your choice of
Amazon.com or PayPal Gift Card
Disclaimer
*Prodege is compensated by Public when members fund an account with Public. SB will appear as Pending for 32 days. Available on both Android and iOS. Must enter valid sign-up information, including credit card information to earn SB. Must sign up and deposit $10 or more to earn SB. Not investment advice. Offer valid for US residents and subject to account approval. <a href="https://public.com/disclosures" target="_blank">See Public Disclosures</a>. Offer may only be redeemed once (1) per user. This offer is presented to you by Swagbucks on behalf of a third-party merchant or sponsor ("Merchant"). Swagbucks does not endorse (and therefore is not responsible to you for) the Merchant's views, policies, products or services. Have questions? Please contact the Swagbucks Help Center. As compared to the average APY (annual percentage yield) of the best high-yield savings accounts, compiled by NerdWallet.com as of 4/3/23, and the average savings rate, reported by Bankrate.com as of 3/29/23. Source: Bankrate.com Source: NerdWallet.com. ** As compared to the average of the best high-yield savings accounts, compiled by NerdWallet.com as of 4/3/23. Public is not responsible for the accuracy, timeliness, or completeness of information on third-party websites. Open to the Public Investing is not a bank and does not offer savings accounts. You should contact your bank for current and complete information about available account types, including applicable interest rates. Yield is an annualized 26-week T-bill rate (as of 4/3/2023) when held to maturity. Rate is gross of fees. T-bills are purchased in increments of $100 par value at a discount; any remaining balance after purchase is held in cash. Risks.
Claim My Cash Back