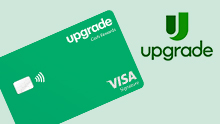 Categories
Featured Offers, Finance
Deposit $25 & Get $100 Cash Back!
Get $100 for signing up for your free checking account! Earn 2% cash back for purchases with your Rewards Checking Debit Card! No ATM fees, no account fees, no monthly or annual fees, no transfer fees, no overdraft fees.* Plus, earn 10,000 SB after you deposit your first $25!* Reward will appear as pending in your account ledger for 32 days from date of first deposit.)
;
How it works
Enter your email address

Redeem the special offer

Receive your choice of
Amazon.com or PayPal Gift Card
Disclaimer
*There are no account fees, overdraft fees, annual fees, or transfer fees associated with Rewards Checking accounts. Rewards Checking charges no ATM fees, but third-party institutions may charge you a fee if you use their ATM/network or if you use your Upgrade VISA® Debit Card internationally. Upgrade will rebate any ATM fee charged by another institution for debit card withdrawals in the United States, up to five times per calendar month. To be eligible to receive third-party ATM fee rebates in any calendar month for eligible ATM withdrawals made during that month, customers must have (i) an open Rewards Checking account and (ii) either maintained an average daily balance in their account of at least $2,500 in the prior calendar month or made direct deposits into their account totaling at least $1,000 during the prior calendar month. As a courtesy to new customers, Upgrade will provide third-party ATM fee rebates for up to the first 2 calendar months after account opening regardless of account activity. Some limitations apply. Please refer to the applicable Cross River Bank Deposit Account Agreement and Upgrade VISA® Debit Card Agreement and Disclosures for more information.
Claim My Cash Back