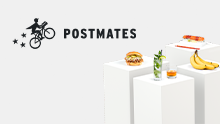 Categories
Featured Offers
$5 off Postmates + 2,856 SB with your first order!
Download the Postmates app and make your first purchase within the first 7 days to earn 2,856 SB! Use Promo Code "5OFF" for $5 off! *Must be your first time making a purchase on Postmates to earn SB.
;
How it works
Enter your email address

Redeem the special offer

Receive your choice of
Amazon.com or PayPal Gift Card
Disclaimer
*$28 Cash Back awarded in the form of points, called SB. SB awarded within 7 days and can be redeemed for gift cards or PayPal cash at swagbucks.com/redeem. Must make your first purchase with Postmates within the first 7 days of app installation to earn SB. This offer awards within 7 days. Must have your order delivered to earn SB. SB will be revoked for canceled and invalid orders. Offer may only be redeemed (1) one time per user. This offer is presented to you by Swagbucks on behalf of a third-party merchant or sponsor ("Merchant"). Swagbucks does not endorse (and therefore is not responsible to you for) the Merchant's views, policies, products or services. Have questions? Please contact the Swagbucks Help Center.
Alert me