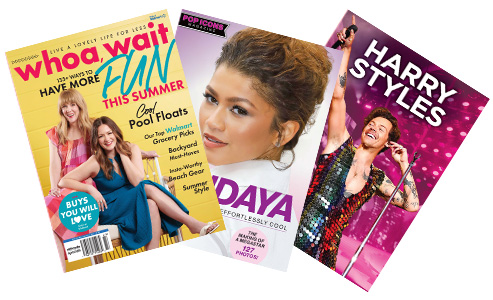 Conditions
Maximum Of Two Receipt Submissions Per Month For This Offer.
Cannot use this offer with any print or in-app coupon or rebate
Eligible Products
Murder Mystery - A360 Media Specials
Food to Love: Vegan Cookbook
Denise Austin
College Readiness Guide
Start Your Own Business - A360 Media Specials
Rolling Stones: 60th Anniversary - A360 Media Specials
Drew Barrymore Magazine
Interior Design
Elvis -The Complete Story Elvis & The Colonel
Zendaya - The Story of Zendaya (Supremely Talented & Effortlessly Cool)
Harry Styles - Us Weekly/A360 Media Specials
Joy The Baker Magazine
Stream+ Magazine
Everyday Faith Magazine
Whoa Wait Magazine
Reminder
Offers are available in limited quantities

Please check the offer details closely as some offers cannot be redeemed on Swagbucks when clipped, claimed or redeemed on other savings apps or websites.
Assorted Magazines
Earn $7
In-Store
Earn when you pick up issues of the eligible magazines listed below!

Maximum Of Two Receipt Submissions Per Month For This Offer.
Option 1: Buy 1 eligible magazine and earn 300 SB.
or
Option 2: Buy 2 on the same receipt and earn 700 SB!*

Limit: You can do any combination of the above options no more than twice per calendar month.
Fine Print
*Only purchases of the following are eligible for SB:
Murder Mystery - A360 Media Specials
Food to Love: Vegan Cookbook
Denise Austin
College Readiness Guide
Start Your Own Business - A360 Media Specials
Rolling Stones: 60th Anniversary - A360 Media Specials
Drew Barrymore Magazine
Elvis-The Complete Story Elvis & The Colonel
Zendaya - The Story of Zendaya (Supremely Talented & Effortlessly Cool)
Interior Design
Harry Styles - Us Weekly/A360 Media Specials
Whoa Wait Magazine**

No other products are eligible for SB.
Must purchase at least 1 of the above eligible products to earn SB.

SB for this offer can only be earned twice per month, while supplies last.

Not all products available at all eligible retailers.
This offer is subject to change at any time and is available in limited quantities.
Purchase must be made between May 25, 2022 and September 21, 2022. Receipt must be uploaded by 11:30 pm Pacific Time on September 21, 2022. Purchases made outside of the listed dates are not eligible for SB.

Uploaded receipts are not eligible for SB if linked to other promotions.

**Whoa Wait Magazine only available instore at Walmart.