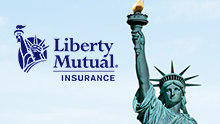 Save on your home and auto insurance
Earn 200 SB
Log in or Sign up to take advantage of this offer.
Top 3 Things to Know
Must have valid interest in receiving a quote.
Award will pend for 32 days.
Must get a home or auto insurance quote. Not eligible for renter's quote.
Drivers who switch to Liberty Mutual save an average of $586! Let us see (for FREE) how much we can save you. What do you have to lose? Plus, earn 200 SB* when you request your car or home insurance quote and purchase a policy. Liberty Liberty Liiiberty Liiiberty! * Note - any inquiries that do not have valid intent will have their credit revoked.
Disclaimer
*SB for insurance quote will appear as Pending for 32 days. Renter's policies are not eligible for SB. Must submit valid name, address, credit card and other subscription information to earn SB. Offer may only be completed once (1) per user. This offer is presented to you by Swagbucks on behalf of a third-party merchant or sponsor ("Merchant"). Swagbucks does not endorse (and therefore is not responsible to you for) the Merchant's views, policies, products or services. Have questions? Please contact the Swagbucks Help Center. If you are not credited within 7 days, you have 14 days to contact the Swagbucks Help Center for further investigation. Help Center tickets submitted after the 14 day grace period are not eligible for further investigation and SB.