Special Offer
Participate in one of our special offers and earn guaranteed Swag Bucks.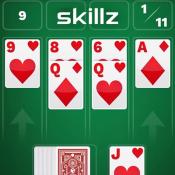 Download
21 Blitz
Earn 4000 SB
Play card games, win prizes! Install, make a deposit and play your 1st paid game to earn 4,000 SB!*
If you are downloading on an Android device, you may receive the following message. "This type of file can harm your device." Please disregard, 21 Blitz is a secure and safe application and will do no damage to your phone. Play away!
SB will appear as Pending for 3 days after your first paid game. SB for 1st paid game can only be redeemed once (1) per member across all Skillz games (Solitaire Cube, Cube Cube, Strike! Bowling, 21 Blitz, Blackout Bingo).
I have an account.