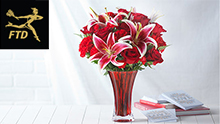 Save 15% Sitewide and earn 1,250 SB!
Earn 800 SB
Log in or Sign up to take advantage of this offer.
FTD is a leading floral retailer with over 100 years of experience. Shop with one of America's most recognizable brands and enjoy FTD's floral quality, flowers , artistry, and reliability.
Disclaimer
*$15 Minimum purchase required for the SB award. Any returned or canceled purchase will result in your SB award be reversed. Purchase of Gift cards or purchases made with gift cards are not eligible for SB.

SB may not be awarded for your purchase if any coupon, group certificate (voucher) not directly provided by Swagbucks is used in your purchase.
Groupon or LivingSocial vouchers may not be used for your purchases.