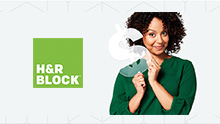 Say Hello to Better Tax Prep
Earn up to 8 SB/$
Log in or Sign up to take advantage of this offer.
Save 25% off H&R Block's online tax filing products.
-File online for free, earn 75 SB.
-Upgrade to Deluxe online filing or higher product and earn 15 SB per dollar.
-Purchase H&R Block tax software, earn 15 SB per dollar.*
Disclaimer
*Please allow up to 60 days for SB to appear in your account. SB only available on account registration for new H&R Block customers. Purchase of back editions of H&R Block Software prior to 2016 are not eligible for SB. If you cancel your order or return product for a refund, SB will not be awarded and any SB previously awarded may be revoked. For help, contact SB Support.