Free ExxonMobil Gift Card $50 Gift Card Get ExxonMobil Gift Card $50 Gift Card for free with Swagbucks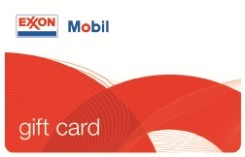 Sign up for Swagbucks
Sign up for free with just your email and password.
Earn 5000 SB
Complete surveys, take advantage of promos, find shopping deals, play games or watch videos.
Redeem your points for ExxonMobil Gift Card $50 Gift Card
Exchange your SB for an ExxonMobil Gift Card $50 Gift Card.
Details on the Free ExxonMobil Gift Card $50 Gift Card
Use your ExxonMobil Gift Card at approximately 10,000 Exxon and Mobil stations nationwide; the card can be used right at the pump for the ease and convenience of filling up your tank; use it inside the station for snacks, beverages and convenience items, or while on the move stop in and get your car washed and or repaired.

*This is a physical gift card and will be shipped to the address listed in your Swagbucks account. Make sure the address is correct as we cannot ship out replacement gas cards.

Disclaimer:
Exxon Mobil Corporation is not a sponsor or co-sponsor of this promotion. The Exxon and Mobil logos are registered trademarks of Exxon Mobil Corporation or one of its subsidiaries. ExxonMobil Gift Cards are issued and sold by SVM, an Illinois Limited Partnership.


Frequently Asked Questions
Where Can You Use Your Exxon Mobil Gift Card?
Exxon Mobil gift cards can primarily be used as Exxon Mobile gas stations. When you're on the road, you have the option of stopping at one of the 11,000 stations Exxon Mobile has in operation across the nation – meaning no matter where you are, you should be able to enjoy a tank full of free gas.


What Are Your Exxon Mobil Gift Card Purchasing Restrictions?
Unfortunately, there are some purchasing restrictions placed on your Exxon Mobile gift card. You will not be able to purchase additional gift cards with your card, nor will you be able to purchase a lottery ticket.


What Can You Buy With An Exxon Mobil Gift Card?
That said, there are far more things available for you to purchase at an Exxon Mobile gas station. You'll be able to get a tank of gas without a problem, but you'll also be able to enjoy all manner of snacks and even full meals. Most Exxon Mobil gas stations also have phone chargers, sweaters and knick-knacks available in stores just in case you want to take something with you when you leave.


How Can You Check Your Exxon Mobile Gift Card Balance?
Exxon Mobile lets you check your gift card balance one of three ways. You can:

Call 1-800-972-7481 to talk to an Exxon Mobile representative about your account balance.
Have your local Exxon Mobile cashier look over your account at check out.
Sign in to your Exxon Mobile online account and click "Check Balance" in your account options.


Will Exxon Mobil Replace A Lost Or Stolen Gift Card?
At this point in time, Exxon Mobil will not replace a gift card that's been lost or stolen. This is all the more reason for you to keep a close eye on a physical card. Alternatively, be sure to keep your Exxon Mobile account information private, or else you risk someone swiping the money you have stored away on an e-card.


How Is An Exxon Mobile Gift Card Different Than A Gas Card?
Gift cards and gas cards differ in usability. An Exxon Mobile card will get you consistent discounts on gas while also letting you earn points towards a free tank or another reward. Comparatively, gift cards are to be used at checkout in the place of a credit or debit card. You cannot use points when paying for a purchase with a gift card – but who's going to complain about free gas?


What is Exxon Mobil?
Exxon Mobil is considered to be among the largest publicly traded international oil and gas companies. You've probably seen their gas stations on street corners all around the nation. These Mobil stations not only provide you with the fuel you need to take road trips, go to work, and perform other daily tasks, but they'll also give you convenience items like snacks and gear to make any trip a little more enjoyable. Many locations offer car washes and air pumps to keep your car running smoothly.


How Can You Get A Free Exxon Mobile Gift Card?
Do you need to fill up your tank? Then why not do what you can to get your hands on a free Exxon Mobile gas gift card? They make a great gift for a loved one or another avenue to save money for yourself. When you sign up for a Swagbucks account, you can start earning your way towards a free gift card.

When you sign up with Swagbucks, you can take paid surveys, watch videos, play games, and earn cash back with online shopping. Once you've earned enough points, you'll be able to cash them out in exchange for a gift card for your favorite retailers like Apple iTunes, PayPal, and more.