Free Pandora ONE eGift card $30 Get Pandora ONE eGift card $30 for free with Swagbucks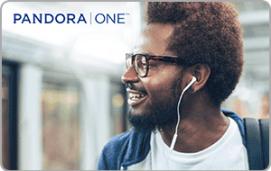 Details on the Free Pandora ONE eGift card $30
Pandora is an internet streaming service that provides highly personalized radio to 80 million users. Musicologists at Pandora listen to and decode songs, one at a time, to ensure that your next song is the perfect one. Just start with the name of a song, artist or genre and we'll begin playing similar music. Then, you can Thumb Up or Down songs to tailor the station to your unique tastes. Create up to 100 stations, and tune in anytime, anywhere. With Pandora One, you will get everything Pandora has to offer without the interruption of ads, and with added features like more skips and fewer timeouts.

Redeemable only on www.pandora.com/gifts for a six (6) month Pandora One gift subscription. Open to US residents 13+; no purchase necessary. Gift subscription does not expire prior to activation. One time use only; gift subscription code is void after activation. Card cannot be exchanged for cash or cash equivalent, applied to a past subscription, or used as payment on an account or for other goods or services from Pandora. Treat card like cash; it cannot be replaced if lost or stolen. Pandora One subscriptions are subject to the Pandora One Terms available at http://www.pandora.com/legal/one. Use of gift subscription constitutes acceptance of all applicable terms and conditions. Pandora One subscriptions are issued by Pandora Media California, LLC. © 2015 Pandora Media California, LLC. All rights reserved.
Sign up for Swagbucks
Sign up for free with just your email and password.
Earn 3000 SB
Complete surveys, take advantage of promos, find shopping deals, play games or watch videos.
Redeem your points for Pandora ONE eGift card $30
Exchange your SB for a Pandora ONE eGift card $30.
Frequently Asked Questions
What is Pandora One?
Pandora One, also known as Pandora Plus is a streaming service that allows you to listen to music and podcasts online through a variety of devices. The upgraded service also gives you offline listening options.
What is Pandora One Desktop?
The Pandora One Desktop app allows users full access to the Pandora account of their choice (Free or Premium options are available). Features allow for searches through similar music, the creation of unique radio stations, and the ability to customize playlists. You will also be able to see details about what is playing including the name of a song, the album it comes from, and the name of the artist.
Is Pandora One and Pandora Plus the same thing?
Pandora One and Pandora Plus are similar but not identical. Both allow you to listen to more music on your own terms.
What's the difference between Pandora One and Pandora Plus?
Pricing is one of the major differences. Pandora Premium gives unlimited offline listening while Pandora Plus offers limited offline options.
What features does Pandora One include?
Pandora One includes fewer timeouts than other streaming services. You create radio stations according to your own unique tastes and then customize them by using the thumb up for songs or artists that you want to hear more from and thumb down for songs you don't care for.
Does Pandora One have ads?
You are not going to get ads with a paid, streaming service. Your Pandora subscription gives you more music with no interruptions.
Does Pandora One have unlimited skips?
Yes, you can skip as many songs as you like with a paid subscription service.
How much does Pandora one cost?
A Pandora subscription costs $9.99 per month for an individual plan or $14.99 per month for a family plan which allows up to 6 accounts. Free trial periods are frequently offered and typically run for 60 days?
How do I redeem my Pandora One gift?
To redeem a Pandora One gift card, simply enter the activation code or gift card number where specified during the checkout process. Even with a gift subscription you may be asked to enter your own credit card information at the start of your service.
Why did my Pandora account upgrade to Pandora One?
It may be a mistake in service or it may have happened if 2 people are using the same account on different devices. You can check the faqs for more solutions or contact Pandora customer support.