Ninja Foodi 5-in-1 Grill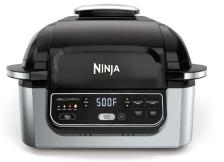 Starting at: 10 SB per entry
Entries left: 1543 of 4700
Ninja® Foodi® 5-in-1 Indoor Grill

The grill that sears, sizzles, and air fry crisps™. With unique Cyclonic Grilling Technology™, 500F rapid cyclonic air circulates around food for amazing Surround Searing, while the 500F high-density grill grate gives you delicious char-grilled marks and flavor virtually smoke-free. It's also an air fry crisper, allowing you to enjoy guilt-free fried food.

For official rules click here.

*The winner of this Swagstakes will be notified via email and will need to verify the prize within 7 days.