Peloton Bike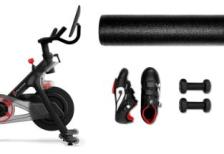 Starting at: 25 SB per entry
Entries left: 2139 of 15000
Peloton Bike Starter Package

- Peloton Bike
- 1 pair of Peloton Cycling Shoes
- 1 pair of 3 lbs. weights
- Bike Mat


*Does not include Peloton membership

For official rules click here.

*The winner of this Swagstakes will be notified via email and will need to verify the prize within 7 days.