Kitchen Makeover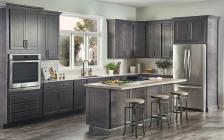 Starting at: 25 SB per entry
Entries left: 3829 of 30000
Are you in need of a kitchen makeover? Treat yourself to all new appliances like a smart fridge, dish washer, stove... or all of the above!

Enter to win $4,000 in Gift Cards to Home Depot or Lowe's Home Improvement

*Winner will choose (1) merchant from those listed above. Prize will sent as a e-gift card.

For official rules click here.

*The winner of this Swagstakes will be notified via email and will need to verify the prize within 7 days.