$5 PayPal Cash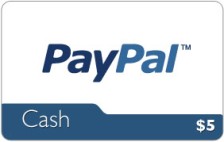 Starting at: 75 SB per entry
Entries left: 9 of 9
Snag a Swagstakes Entry for your chance to win $5 PayPal Cash for FREE with Swag Bucks!

Want to turn your SB into CASH? This is your chance! If you win, $5 (U.S dollars) will be deposited into your PayPal account. Use the money for anything - your gas bill, car bill, gifts - absolutely anything!

This Swagstakes runs every 36 hours. After a 36-hour cycle ends, a winner will be drawn and the Swagstakes will start all over again.

The money will be sent directly to the PayPal account that is associated with the same email as your Swagbucks.com account. Your first and last name needs to be an exact match to your PayPal account information and your PayPal account needs to be verified. Under no circumstances will a payment ever be sent to a PayPal account with another email address, a different first and last name than what appears on your Swagbucks.com account, and an account that has not been verified with PayPal. For more information on PayPal account verification click here.

If you do not have a PayPal account, you can sign up for a free account at PayPal.com. Make sure to use the email address associated with your Swagbucks.com account. Once the account is created, you will receive an email from PayPal to claim your funds.

Once you receive the email from PayPal you have 30 days to claim your funds. After 30 days the PayPal claim expires and no Swag Bucks will be refunded.

Please allow 7-21 business days for payment to be transferred.

For official rules click here.

*The winner of this Swagstakes will be notified via email and will need to verify the prize within 7 days.