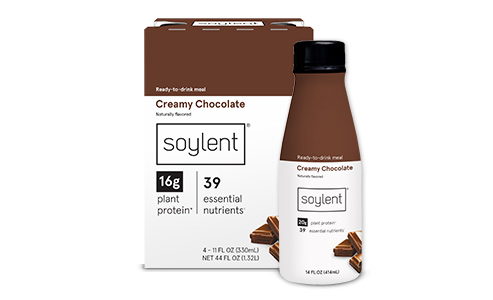 Conditions
SB for this offer can only be earned once per week (Sun-Sat), while supplies last.
Cannot use this offer with any print or in-app coupon or rebate
Eligible Products
Soylent Meal Replacement, Creamy Chocolate, 11 fl oz, 4 ct
Soylent Meal Replacement, Mint Chocolate, 11 fl oz, 4 ct
Reminder
Offers are available in limited quantities

Please check the offer details closely as some offers cannot be redeemed on Swagbucks when clipped, claimed or redeemed on other savings apps or websites.
Are there Soylent Coupons?
Purchase 1 Soylent® 4-pack and save $8 off your order with Swagbucks.
Does Soylent have discount programs?
Soylent offers discounts to students, teachers, medical professionals, first responders, and the military. Just do a quick verification with id.me and your discount will be applied to eligible purchases.
Is Soylent Allergen-free?
All Soylent products contain soy. All of their drinks are vegan, nut, oat, dairy, and gluten-free. They rely on plant protein and plant oils to power their formulas.
Soylent® 4-pack - Walmart
Earn $8
In-Store & Online
Soylent® complete nutrition meal replacement shakes give your body everything it needs to thrive. It's a convenient, rich and creamy, nutritious meal replacement and can also fill in the gaps of the daily essential nutrients you may be otherwise lacking. 20g of plant-based protein, 39 essential nutrients, 1g total sugars, 600mg omega-3 healthy fat and 400 calories of slow burning carbs help you get full and stay full. A great solution for anyone looking for an easy way to make changes to their diet whether its to lose, gain, or maintain weight or just include more plant-based protein into their diet.

Buy Soylent® 4-packs In-Store at Walmart or online at Walmart.com (delivery or pick up) and earn!

Maximum Of One Receipt Submission Per Week For This Offer.
Option 1: Buy 1 Soylent® 4-pack and earn 800 SB!*

Limit: May be redeemed once per week (Saturday - Sunday).
Shop online for delivery or pickup using any of the following services
Shop in-store at any of the following locations to earn SB
Fine Print
*Only purchases of the following are eligible for SB:
Soylent Meal Replacement, Creamy Chocolate, 11 fl oz, 4 ct
Soylent Meal Replacement, Mint Chocolate, 11 fl oz, 4 ct

No other products are eligible for SB.
Must purchase at least 1 of the above eligible products to earn SB.
SB for this offer can only be earned once per week (Sunday-Saturday), while supplies last.
Not all products available at all Walmart locations. Purchase must be made in-store, online at Walmart.com or online via Walmart Grocery.
This offer is subject to change at any time and is available in limited quantities.
Purchase must be made between October 28, 2021 and February 28, 2022. Receipt must be uploaded by 11:30 pm Pacific Time on February 28, 2022. Purchases made outside of the listed dates are not eligible for SB.
Uploaded receipts are not eligible for SB if linked to other promotions.