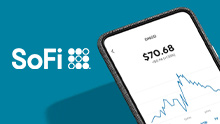 Categories
Featured Offers, Finance
Deposit $20 & Earn $40 Cash Back
Become an investor with no commission fees. Trade stocks and ETFs, and Options, or buy fractional shares. Build confidence as an investor with real-time investing news and curated content. Sign up & deposit $20 or more to earn 4,000 SB! Must be a new user to SoFi Invest.
;
How it works
Enter your email address

Redeem the special offer

Receive your choice of
Amazon.com or PayPal Gift Card
Disclaimer
<span style="border: 1px solid #000000; padding: 3px;"><b>ARE NOT FDIC INSURED - ARE NOT BANK GUARANTEED - MAY LOSE VALUE</></span><br><br> *This is a paid advertisement and Swagbucks receives a fee from SoFi for products obtained. Must deposit at least $20 to earn SB. SB will appear as Pending for 32 days. Must enter valid sign-up information, including social security & funding information to earn SB. Funds must stay in your account for a minimum of 30 days. Early withdrawal subject to SB award being revoked. Must be a new user to SoFi Invest. Brokerage and Active investing products offered through SoFi Securities LLC, member FINRA/SIPC. Automated investing is offered through SoFi Wealth LLC, an SEC registered investment advisor. Options involve risks, including substantial risk of loss and the possibility an investor may lose the entire amount invested in a short period of time. Before an investor begins trading options they should familiarize themselves with the Characteristics and Risks of Standardized Options https://www.theocc.com/getmedia/a151a9ae-d784-4a15-bdeb-23a029f50b70/riskstoc.pdf. Tax considerations with options transactions are unique, investors should consult with their tax advisor to understand the impact to their taxes. Offer may only be redeemed once (1) per user. This offer is presented to you by Swagbucks on behalf of a third-party merchant or sponsor ("Merchant"). Swagbucks does not endorse (and therefore is not responsible to you for) the Merchant's views, policies, products or services. Swagbucks is not sponsored or endorsed by SoFi and SoFi has no responsibility to fulfill any rewards earned through this program. Have questions? Please contact the Swagbucks Help Center. SB are distributed by Swagbucks, not SoFi.
Claim My Cash Back