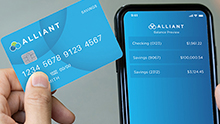 Categories
Featured Offers, Finance
Open a Savings Account, Get $75 Cash Back!
Bank anytime, anywhere with Alliant Online Banking. Get started today by opening a new savings account. Plus, earn 7,500 SB when you are approved!*
;
How it works
Enter your email address

Redeem the special offer

Receive your choice of
Amazon.com or PayPal Gift Card
Disclaimer
*You are eligible to join Alliant if you 1) are a current or retired employee from one of the many businesses and organizations Alliant partners with in the U.S., 2) are a domestic partner or immediate family member of a current Alliant member, or 3) live or work in one of the communities near our Corporate Headquarters in Chicago. If you are not eligible through one of the three options above then you can become a member of Foster Care to Success (FC2S), which will make you eligible for Alliant membership. FC2S serves thousands of foster teens across the United States, focusing on those who are aging out of the foster care system. FC2S awards grants and scholarships for higher education and provides care packages, mentoring and internships. (Alliant will pay the one-time $5 membership fee to FC2S on your behalf.) *SB will appear as Pending for 7 days. Must enter valid sign-up information to earn SB. Offer may only be redeemed once (1) per user. This offer is presented to you by Swagbucks on behalf of a third-party merchant or sponsor ("Merchant"). Swagbucks does not endorse (and therefore is not responsible to you for) the Merchant's views, policies, products or services. Have questions? Please contact the Swagbucks Help Center.
Claim My Cash Back