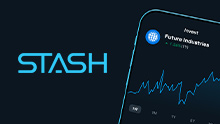 Categories
Featured Offers, Finance
Invest $5, Get $50 Cash Back + $10 from STASH
Ready to start investing? Join millions of Americans learning to save and invest on Stash.¹ Create a Stash account and Stash will start you with $10 in your Invest account² — plus, earn 5,000 SB when you make your first deposit of $5 or more to your personal portfolio.
;
How it works
Enter your email address

Redeem the special offer

Receive your choice of
Amazon.com or PayPal Gift Card
Disclaimer
Investment advisory services offered by Stash Investments LLC, an SEC registered investment adviser. Investing involves risk and investments may lose value. Holdings and performance are hypothetical. Images of holdings and performance are hypothetical and provided for information purposes only. Investing involves risk and investments may lose value. The paid partner received cash compensation of up to $150.00 (per cost per action) for providing this endorsement. Compensation creates an incentive for the individual to recommend Stash. Endorsements are not representative of the experience of all clients and are not guarantees of future performance or success. For a representative sample of client testimonials, refer to Apple App Store or Google Play reviews To begin investing on Stash, you must be approved from an account verification perspective and open a brokerage account ("Personal Portfolio"). Promotion offer is subject to Terms and Conditions. ¹This is not an endorsement or a statement of satisfaction by any Stash client. ²Offer subject to <a href="https://lp.stash.com/personal-portfolio-5-first-deposit-offer-promoter/" target="_blank">Terms and Conditions</a>. To be eligible to participate in this Promotion and receive the bonus, you must complete the following steps: (i) click through the link above, (ii) successfully open a Stash Invest Account (otherwise known as your personal portfolio) in good standing, (iii) link a funding account (e.g. an external bank account) to your new Stash Invest Account, AND (iv) initiate and complete a deposit of at least five dollars ($5.00) into your Stash Invest Account. *$10 Bonus is only applicable to new users making their first deposit. SB will appear as Pending for 32 days. Must enter valid sign-up information, including bank account information to earn SB. Offer may only be redeemed once (1) per user. This offer is presented to you by Swagbucks on behalf of a third-party merchant or sponsor ("Merchant"). Swagbucks does not endorse (and therefore is not responsible to you for) the Merchant's views, policies, products or services. Swagbucks is not sponsored or endorsed by Stash and Stash has no responsibility to fulfill any rewards earned through this program. Have questions? Please contact the Swagbucks Help Center.
Claim My Cash Back