Bitcoin CryptoVoucher $30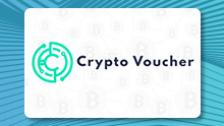 Starting at: 5 SB per entry
Entries left: 1141 of 1500
Redeem SB for Bitcoin with CryptoVoucher from CryptoVoucherGiftCard.com The gift card will allow you to purchase Bitcoin in an amount equivalent to the face value of the gift card you redeemed, less network transaction fees, which typically range between 11 - 13%. This means that you will receive roughly $26 worth of Bitcoin with this $30 gift card.

Please familiarize yourself with the steps involved in using the Cryptovoucher Gift Card. Lastly, you will need a Crypto Wallet to store the Bitcoin you buy with this gift card. Consider the Swagbucks Coinbase Offer if you want to use Coinbase for a wallet.

If you are not familiar with Bitcoin and/or Cryptocurrency, please research this topic before redeeming your SB for this gift card. We encourage you to read more about cryptocurrency and the bitcoin before selecting this reward option.

Please note that the value of Bitcoin are volatile, which could result in a significant drop in value of your Crypto holdings.

Access to your gift code will be emailed and posted on your account profile, under "My Gift Cards" within 3-10 business days of verifying your purchase.

For official rules click here.

*The winner of this Swagstakes will be notified via email and will need to verify the prize within 7 days.