Fujifilm Instax Mini 11 Bundle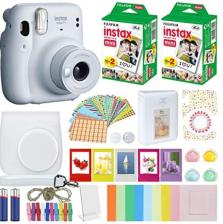 Starting at: 10 SB per entry
Time Left: 49 DAYS
-Includes FujiFilm Instax Mini 11 Camera, The Fujifilm Instax Mini 11 Ice White features a Fujinon 60mm f/12.7 Lens, Optical Image Viewfinder, Auto Exposure and a Built-In Flash. Instantly produces image prints fun and simple. Fujifilm Instax Mini 11 Camera BUNDLE is Colorful, Fun, Compact and really Cool.

-Includes 40 Instax Film designed for shooting photos with a press of a button and instantly printing it out with the Fujifilm Mini series, enjoy to watch the images develop practically before your eyes.

-A unique Fujifilm fitted case with a removable strap for extra comfort was designed to both hold and protect your camera. Fashionable and practical. Be smart, be safe.

-Keep your photos out for viewing, or store them neatly. We're giving you both options, 64 Page Photo Album and 5 colored plastic frames.

For official rules click here.

*The winner of this Swagstakes will be notified via email and will need to verify the prize within 7 days.