5,000 SB Giveaway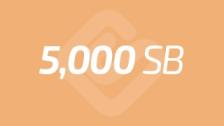 Starting at: 10 SB per entry
Entries left: 837 of 1000
Snag a Swagstakes Entry for your chance to win 5,000 SB for FREE!

We've exchanged the 5,000 SB Giveaway into a "Limited Entry" Swagstakes! Now You have a chance to win for as low as 10 SB!!

Enter as many times as you want. Every entry is another chance to win! There's NEVER been an EASIER way to win 5,000 extra SB!


For official rules click here.